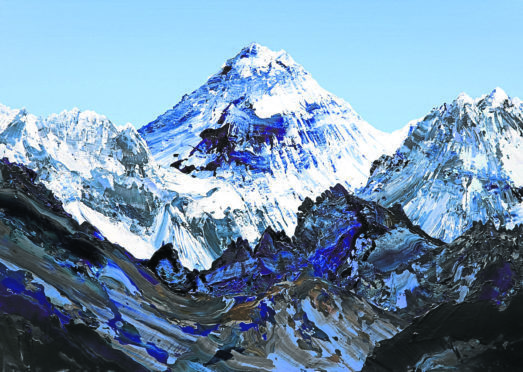 An internationally-renowned artist is donating proceeds of a major exhibition to a Scots charity building a hospital in a Nepalese village devastated by earthquakes.
James Hawkins, who lives in Ullapool and has the Queen as one of his most notable admirers, created a series of spectacular paintings after trekking the region around Mount Everest.
He went on the excursion on the invite of the Little Sherpa Foundation, which was originally set up to help the families of Sherpa guides killed on Everest in 2014 and after the earthquake in 2015.
The charity has since expanded to help others affected by the devastating quakes including rebuilding a school in Phortse and constructing a much- needed hospital in the village.
During the trip, Mr Hawkins went trekking with James Lamb, from the foundation, and got some inspiration for his latest series of paintings.
Mr Lamb, of the Little Sherpa Foundation, said: "James and his wife are set to donate 50% of all the profits from the exhibition to our cause.
"If his previous exhibitions in London are anything to go by then this will enable us to build a small hospital, a school and give educational scholarships to 60 young people.
"We are extremely grateful for donations such as this, and were delighted to take James on a tour to show him what our cause is all about."
The exhibition will be at La Galleria, Pall Mall, London.