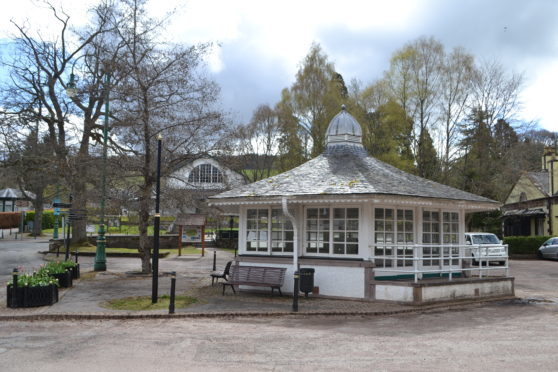 An iconic pavilion in the middle of Strathpeffer has been put up for rent by Highland Council in the hope of creating a new tourist attraction.
The former water sampling pavilion in the square is part of the history of the town, whose spa and mineral springs boast the most sulphurous water in the UK.
The eye-catching if diminutive hexagonal building is available for rent at offers over £3,000 a year and it's hoped there will be no shortage of interested parties.
It dates from the 1980s, when it was open to the public to sample the waters from a well beneath it.
From the late 19th century to 1950, Strathpeffer bustled with tourists coming to sample the waters at the old Pump Room in the square.
After the old Pump Room was pulled down in 1950, the square lay empty until the late 1980s when it was refurbished.
Two hexagonal buildings were put up, including the water sampling pavilion.
Fundraising group for Strathpeffer Pavilion cancels memberships amid ongoing sale
Environmental health concerns saw the closure of the pavilion, which was a café and ice cream parlour in the 1990s.
The neighbouring building currently houses a cycle business.
Glimpses of the site in its Edwardian heyday were discovered when Margaret Spark's family took over a pharmacy business in the square in 1958.
In a disused upstairs room, Mrs Spark found 200 photographic plates showing scenes of Strathpeffer dating back more than 100 years.
The photos were taken by T Wellwood Maxwell, who ran the pharmacy at the turn of the century.
Mrs Spark had the photos digitally transferred to prints and has lodged them in the Highland Archive.
She said: "The photos are fascinating, showing Strathpeffer in its hey day as a spa town. The square was full of people coming to taste the waters in the old Pump Room.
"After it was pulled down, the square was more or less just a rubble site. The special maple trees planted around it in Victorian times had died off, possibly due to the sulphuric water.
"After the water sampling pavilion was built, many people used to go in to take the water from two wells directly underneath. Locals were quite sad when it was closed."
Mrs Spark added: "We've been wanting the council to do something about the building for a long time and we all hope someone takes it on."