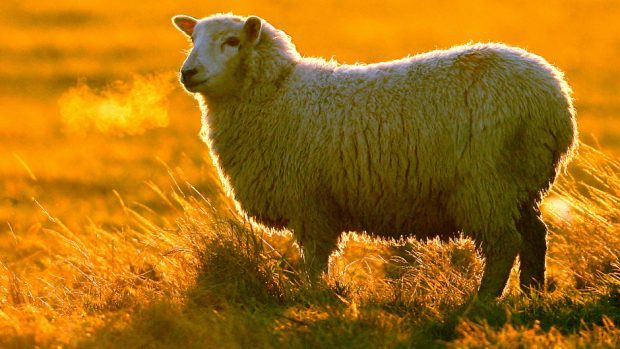 A Highland farmer has spoken of her horror at returning from a hospital visit to find her flock of rare breed sheep had been devastated by a dangerous dog.
Lesley Frost-Schenk lost 12 prized Castlemilk Moorits and a tame deer she had befriended in the bloody attack on her property at Gruinards near Ardgay.
Farmers in the area are said to have beset by stray and loose dogs in recent months, with the damage now running into thousands of pounds and the cause of much anguish.
Police are probing the latest incident which has also led the National Farmers' Union Scotland to voice concern at the increasing number of attacks.
Ms Frost-Schenk, who is a rare sheep breeder and project officer at Raigmore Hospital, described the scene of devastation she found after a visit to see her grandmother in hospital in Colchester, Essex.
"Before I left on Friday night I overfilled all the feeders and checked every one.
"I got back at about 5.45 on Monday, so the attack took place some time in between. It was very upsetting.
"The dog took my ram, Rocky, who was in the top field.
"At first I didn't realise there had been more than him harmed but then I looked and saw a massacre in the lower field.
"Altogether I had 28 of the rare breeds. Most of them were expecting, which makes it even worse as there are only 1,500 or so of the Castlemilk Moorits left."
The farmer reported the matter to police and though they initially thought a stray dog may have been responsible, investigations revealed the animal responsible may have been accompanied by an owner.
"Last year's lambs were thrown under a tree and so was the deer, in an unnatural way," she said. "The two lambs were on top of one another as though someone was trying to hide them."
Neighbour Alice Cuthbertson said it was the third attack on local farms since March.
She added: "Before the last lot of snow we met the owners of this field out the back and they told us a number of sheep had been killed.
"A big brown foxy looking animal had been seen running through the field. They weren't sure if it was a dog or a fox.
"Then about three weeks later there were three sheep killed just behind us and 14 of the sheep had been chased into the river. I know they took them away – chances are they would have aborted the lambs."
Police said the sheep had sustained injuries consistent with being attacked by a dog or dogs.
They were kept in a field next to the River Carron, close to a path regularly used by dog walkers.
Sergeant Charlotte Fisher said: "Incidents like this cause an unnecessary financial impact on farmers as well as an emotional one.
"Nobody wants to have to deal with the aftermath of an attack like this.
"I would remind dog owners that allowing their pet to attack or chase livestock is an offence.
"Anyone who sees evidence of sheep worrying should contact the police."
Ian Wilson, regional manager for the Highlands at NFU Scotland, said: "There seems to be an ever-increasing trend of sheep worrying.
"Sometimes we are dealing with "latch-key dogs" where they are allowed out to run wild.
"In a case where so many animals were killed, you would expect the owner to find their dog or dogs covered in blood. Owners must do more to keep their pets under control, particularly near livestock."
Anyone with information is asked to call police on 101 or Crimestoppers anonymously on 0800 555111.
Most reported cases never lead to a conviction
Only 19 people across Scotland were convicted of livestock worrying offences last year, despite 175 cases being reported to police.
The figures were revealed during parliamentary questions to MSP Liz Smith who is campaigning for greater livestock protection.
Ms Smith, Conservative MSP for Mid-Scotland and Fife, is pushing for tougher penalties and a widespread public awareness campaign to alert dog walkers to their responsibilities.
She said: "The shockingly low conviction rate underlines the concerns of farmers who feel that dog walkers have carte blanche to do what they want in the countryside.
"There have bee a number of shocking incidents in Perth and Kinross, where livestock have been killed as a result of dog attacks and tougher penalties are needed to prevent this type of crime."
She said: "Ultimately, the police need to take the concerns of farmers seriously and the authorities must put in place robust rural crime strategies to cut down on livestock crime.
"Every dog has a natural instinct to run and chase down sheep and even if livestock exhibits no physical injuries the stress caused by this can cause pregnant ewes to abort their lambs.
"Even the simple presence of dogs in fields alongside livestock can have serious implications."
Ms Smith added: "In addition to tougher penalties, combatting this crime will require the public awareness of not only the serious consequences of livestock worrying, but of their own responsibilities when out and about in the countryside."
Rural economy secretary Fergus Ewing has pleaded with members of the public to "act responsibly" while walking their dogs through the countryside.
His appeal comes as spring lambing seasons begins on farms and crofts across the country.
Chief Superintendent John McKenzie, who chairs the Scottish Partnership Against Rural Crime (SPARC) said: "Tackling rural crime is a priority for SPARC, and livestock and sheep worrying is an issue which we take very seriously.
"While the reported livestock worrying crimes reduced last year, down from 179 in 2016 to 130 in 2017, we remain focussed and committed to reducing these incidents further. We run campaigns several times a year and are fully aware of the damage which is caused to both livestock and the people who look after them, both in financial and emotional terms. Every report is taken seriously by Police Scotland and we work closely with the Crown Office and Procurator Fiscal Service."