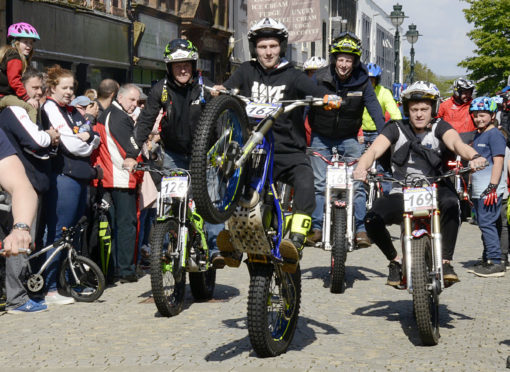 Thrilled spectators lined the high street of Fort William yesterday to welcome the latest crop of riders to tackle the Scottish Six Days Trial (SSDT) event.
Competitors gathered from across the globe with some as far travelled as Australia, New Zealand, Costa Rica and the USA.
In glorious sunshine an estimated crowd of between 3,000 and 4,000 turned out as riders paraded at the beginning of the highly-anticipated date in the motorcycling calendar.
The event, run by the Edinburgh and District Motor Club since 1911, is in its 107th year – and features tests of the riders' ability, experience, strength and stamina.
Clerk of the course,Jeff Horne said: "The whole street was mobbed, just lined with people. Somebody mentioned that aside from all the competitors' families, a lot of locals turned out.
Riders can expect to tackle rough moorland, rocky tracks and public roads as they embark on their daily rides, which can incorporate up to 100 miles.
Each day 282 competitors will  begin and conclude at the West End Car Park on Fort William's waterfront.
Mr Horne, now in his seventh year in the role, added: "I'm hoping for a successful safe conclusion to the event.
"Absolutely I'm excited. The highlight for me will be making sure the trial goes to plan as normal and that the top percentage gives us a bit of a competition.
"I'd like to give a vote of gratitude to the land owners, officials, sponsors, riders and various authorities – and anyone that has anything to do with the Scottish Six Days Trial – as without them there is no event."
For the first time in the event's history two relay teams will take part.
Each team must raise £1,000 each with a proportion going to a charity of their wishing, the Lochaber Mountain Rescue and the Glencoe Mountain Rescue.
Dougie Lampkin has been tipped as an early favourite for the event, with others such as Pre65 winner Gordy Macdonald and James Dabill earmarked for strong performances.