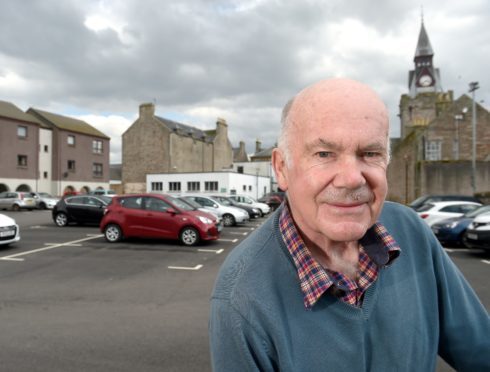 Communities and business leaders are urging Highland Council to rethink its proposals to charge at 14 previously free car parks in the north, as fears mount over the scheme's future region-wide impact.
David Richardson, Highlands and Islands development manager for the Federation of Small Businesses (FSB), said the move will encourage shoppers to "abandon" high streets in favour of free parking at supermarkets and retail parks – or do more shopping online.
And he said the local authority has given the impression it is only bringing in the charges as a "blunt instrument" to raise revenue.
A senior member of the council's administration said last night that the plans are still under discussion and that raising a certain amount of income through parking was preferential to cutting other services.
But concerns are growing among business owners and community leaders in rural towns and villages over the potential economic impact of the charges, due to come in this year, as well as a lack of local consultation.
Under the plans, approved at February's budget meeting, 14 car parks will be affected in the first year of a five-year programme including Chanonry Point in the Black Isle, four car parks in Nairn and sites in Skye, Alness, Dingwall and Ullapool.
But councillors agreed at last week's Re-design Board meeting to create an "all-inclusive" parking policy which could mean paying to use any of the council's 228 car parks – and recommendations will go before the full council in June.
Yesterday Carolyn Wilson, a business owner in Alness, said: "As a business owner, I am worried for the fragile towns in all of the Moray Firth area.
"Folk in Inverness might see this as an easy way to make an income but many shops in rural towns and villages are teetering on the edge."
She stressed there is an important difference between introducing the scheme in towns such as Dingwall, Tain and Alness compared to Skye and Fort William, where there is more tourism and traffic management is a bigger issue.
Over 100 Highland car parks that were once free for drivers could be made paid-for
Mrs Wilson, who is also a Cromarty Firth independent councillor, added: "I think it's a massive worry. It does not matter if the charges are 70p or £2 an hour, introducing these car parking charges is a barrier, and it's another reason for people to shop online instead, or go to a bigger place with a bigger choice."
Nairn Suburban and West Community Council chairman, Richard Youngson, is particularly concerned with the lack of community consultation over the charges.
And he fears that any loss of town centre footfall will be compounded if the administration swiftly approves future plans for out-of-town retailers or food outlets.
Mr Youngson said: "We feel that putting in parking charges is just ridiculous. We are making a very strong case to Highland Council to say, 'look, you have to listen. If you go down this road, all you will do is kill the town centres of Nairn, Dingwall and the rest.'"
He added that the community council is in the process of writing a letter to council chiefs highlighting their concerns.
Cromarty Firth councillor Maxine Smith said yesterday that, if the charges hit Invergordon in the next few years, she would call for a minimum two-hour free stay.
Ms Smith added: "If they went about this in the right way and talked to people and asked, 'do we have a traffic issue and do we need charged,' that would be okay – but this has not been the case."
Re-design Board chairman Bill Loban said: "Highland Council has made a policy to raise a certain amount of income through car parking or other charges, and if people would rather see a cutting of services in some way then that's their view.
"The place to vent these opinions is the Re-design board. I don't see any point in pontificating until the Re-design board goes through the process."
The FSB's comments come just a day after the Press and Journal revealed the council handed out £600,000 in fines since a new parking attendant scheme was introduced in October 2016.
Federation of Small Businesses chief says proposals encourage shoppers to "abandon" high streets
Mr Richardson has called on the local authority to pause and undertake a full economic impact assessment of every area where charges are being proposed at free car parks.
He also wants a clear vision to be presented by the ruling administration on the aims of the scheme in the coming years, including how the revenue from parking charges will be spent.
Speaking yesterday, he referred to FSB research from last summer which shows that 73% of 1,189 small business owners surveyed say improved or free parking is their top priority to encourage future high street prosperity.
He says this highlights the need for ensuring there is enough free parking close to independent shops and businesses for customers.
Mr Richardson says a smarter option would be to trial the new charges but ensure that motorists can park, for example, up to 30 minutes for free to allow customers to buy essentials, and then assess what economic impact this has.
Mr Richardson said: "While charging fair prices for parking where demand outstrips the number of spaces available is entirely reasonable, they should not be used as blunt instrument to raise revenue without any regard to their impact on local businesses.
"FSB believes that introducing parking charges to Highland towns and villages will merely encourage displacement, as shoppers will be encouraged to abandon high streets in favour of the free parking provided by supermarkets and retail parks, or to shop online.
"Any damage to high streets is to the detriment of local businesses, jobs, communities and, ultimately, council coffers."
Mr Richardson also highlighted that the local authority has promised to hold full public consultations with local committees, to examine each car park individually before introducing charges. But he says he has seen no evidence of this consultation happening or any independent economic studies for each settlement.