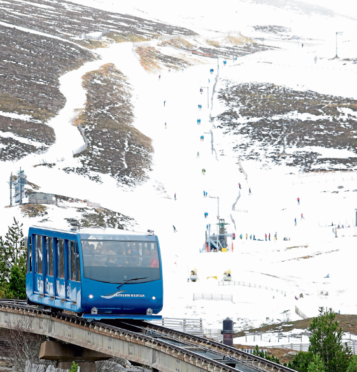 More than 100,000 skiers hit the slopes at just three of Scotland's ski centres this year as snowsport centres report record breaking numbers for the first time in 10 years.
Three of the Highlands top ski centres have released their end of year figures just days after the season ended, with 133,416 skiers having graced the slopes of the Highlands.
CairnGorm Mountain received the largest intake of snowsport enthusiasts receiving 59,003 skiers – more than doubling their intake for the 2016/2017 season which totalled 21,504.
The popular tourist destination has hosted a number of high profile events during their busiest season including, the Groove CairnGorm; the UK's iconic event combining snowsports and music into one festival.
Scotland's main ski resort shuts following 'an amazing season'
Janette Jansson, General Manager at CairnGorm Mountain said: "We are obviously very pleased with the 2017/18 season after such a disappointing season last year. It was great to see the resort so busy and to have had so many happy guests. The team worked really hard maximising the snowfall we had to clear the roads, move the snow and prepare the slopes quickly so that boarders and skiers could enjoy the conditions.
"Despite the great snowfall, we also had to contend with some pretty challenging weather conditions such as high winds which meant that we had to close the resort for around 20 days during the season."
Glencoe Mountain Resort had 41,413 visitors during their six month season – from November 26 until May 7 – reporting this as one of the longest seasons they have had for several years.
Andy Meldrum, Managing Director of Glencoe Mountain Resort said: "It's been the best season for five years across the whole of Scotland and it's been one of the best for Glencoe. The West coast did slightly better as they had far more snow that the East coast."
Nevis Range are also celebrating their most successful year reporting their highest intake of skiers in more than a decade.
The centre, located at the foot of Ben Nevis, reported as having 33,000 skiers take to the slopes during the season, which ended on April 29.
Chris O'Brian, Commercial manager for Nevis Range said the team hope this is the beginning of a successful future for the centre. He said: "It's been a fantastic year. We are delighted to have had such a long and most successful season since 2008. We hope to go onto have a fantastic summer and go onto to have another brilliant year."
More than 225,000 skiers are believed to have travelled to centres across Scotland during the season.