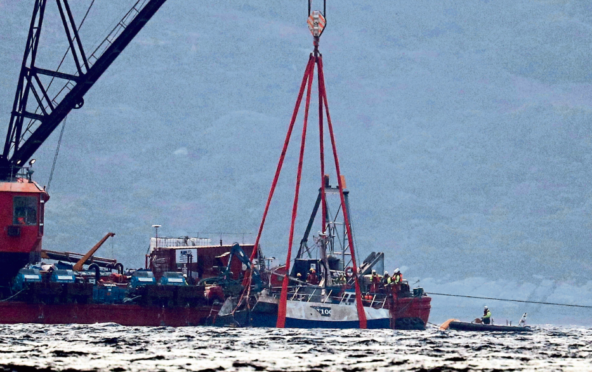 The wife of Nancy Glen fisherman Przemek Krawczyk has described her husband as her 'everything' almost four months after his death.
Gosia Krawczyk was speaking for the first since the fishing vessel sank, describing him as an "amazing father to our children" and the love of her life.
Her husband died alongside his skipper, Duncan MacDougall, after the Nancy Glen went down in Loch Fyne on January 18.
Fellow crewman John Miller survived the ordeal and was pulled from the water by a nearby fishing boat.
The Nancy Glen was raised from the seabed at a cost of about £1 million on April, but only after a campaign.
And Mrs Krawczyk has also called upon the Scottish Government to intervene and raise vessels and the bodies of Scotland's brave fisherman automatically in the wake of tragedy.
She told the Mail on Sunday: "My husband was everything to me. He was my life, he was my love, he was my best friend and he was an amazing father to our children.
"I have the right know why he went to work and never came home. I need answers. Without them I cannot move on with my life.
"It is not just for me. This might prevent something so tragic and so painful happening to others.
"It is right to be able to explain what happened truthfully to my kids, what happened to their father. I just want to know why he died."
Almost one month on from the recovery of the Nancy Glen, Peter MacAlister – the father of another Argyll fisherman lost at sea – is asking the Scottish Government to help bring his son home.
Grieving father says criminal investigation shows wreck containing lost son must now be lifted
Mr MacAlister's son Scott, 40, was aboard the Speedwell when it sank off Easdale island in 2013.
Following the tragic death of her husband, Mrs Krawczyz is now campaigning for new regulations in Scotland to prevent others, including Mr MacAlister, having to experience the "nightmare" she went through.
"I really hope my husband's death brings something positive," she said.
"Not for me but for others, for other fishermen and their families, so that he didn't die for nothing.
"Fisherman risk their lives every day and sacrifice themselves to bring the goods of the ocean for people to enjoy.
"They deserve to be protected and treated like everyone else and have a guarantee that if something happens, their boat and their bodies will be recovered.
"I believe only the Scottish Government can make these changes.
"They have shown me they can do this, because I was in the midst of hell and they managed to bring my husband home to me."