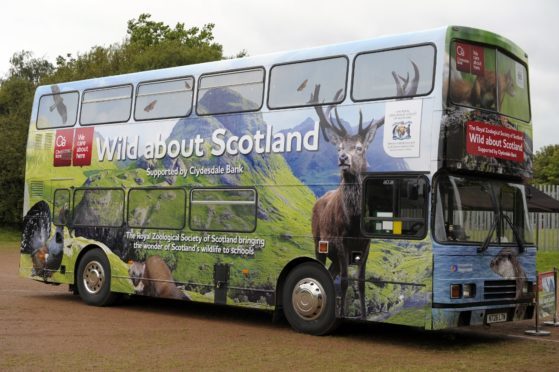 Pupils from primary schools in the Cairngorms have been going 'Wild About Scotland' by learning about the wonders of the Highlands.
Students from Kingussie, Newtonmore, Aviemore and Alvie primary schools hopped aboard the Wild about Scotland double-decker bus last week to learn about nature and their surroundings.
The bus has visited schools in the north more than 50 times, giving more than 2,500 children the chance to get closer to nature, with more than 50,000 students taking part in the scheme across Scotland.
Barbara Smith, CEO of the Royal Zoological Society of Scotland, said: "Our Wild about Scotland bus is a great way to get people on board with the idea of conservation and protecting native wildlife.
"It is vital that we teach and engage with young people about the abundance of native species on their doorstep and how we can all help to preserve them.
"This helps to create a lifelong appreciation and respect for wildlife and the environment, which is a huge part of our work."
The Wild about Scotland team is travelling the length and breadth of the country, engaging children with Scotland's amazing native wildlife and connecting children with the nature on their own doorstep.
The award-winning programme is run by the Royal Zoological Society for Scotland (RZSS) and is supported by Clydesdale Bank.
Helen Page, Group Innovation and Marketing Director at Clydesdale Bank, added: "Since its first trip in 2014, more than 75,000 people have experienced the Wild about Scotland bus, including more than 2,500 from the Highland area. We're proud to be supporting the campaign, particularly as the bus gives communities the chance to engage with expertise from RZSS on Scottish conservation."