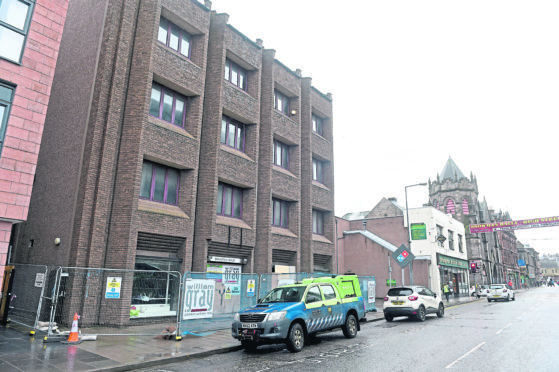 Plans to bring new life to one of the oldest streets in Inverness have been given a boost thanks to a £250,000 grant.
The funding which will give Academy Street a facelift is part of a £8.6million investment package for heritage-led regeneration projects in Scotland's seven cities.
It is being released through the City Heritage Trust programme, which is administered by Historic Environment Scotland (HES).
The £250,000 being allocated to Inverness City Heritage Trust for the years 2018-2020 will be added to their five-year offer (2015-2020) of £1,250,000.
The majority of the money is committed to provide partnership funding to the Heritage Lottery Fund (HLF)'s Townscape Heritage Initiative for Academy Street.
Building owners in run-down Academy Street will be invited to bid for cash to do up their dilapidated properties.
Each of Scotland's seven cities has an organisation working as a City Heritage Trust (CHT) to enhance the condition, maintenance and understanding of the historic environment in their city.
Delivered from 2018-2021, the HES funding will allow heritage trusts to direct resources to local heritage-led projects that will create jobs, regenerate buildings and city precincts, provide training opportunities in the sector and lever additional funding from other sources.
The Perth and Kinross Heritage Trust has led a project to bring a historic tenement in Perth's High Street back into use as residential and shop space.
Alex Paterson, chief executive of HES, who recently visited Perth to view the successful projects, said: "Through schemes such as City Heritage Trust funding, organisations best placed to understand local needs have the opportunity to not only improve the condition and quality of their local historic environment, but align projects to deliver the best possible outcomes in their communities.
"We are seeing the positive impacts previous funding rounds have had on local communities, including the employment opportunities generated and stronger economies from successful commercial ventures."
Cabinet Secretary for Culture, Tourism and External Affairs Fiona Hyslop said: "It is essential that our historic environment is cared for in a sustainable way. The City Heritage Trust scheme will help ensure the conditions and quality of their local historic environment can be improved and preserved for future generations, while bringing immediate, tangible benefits to communities across the country."