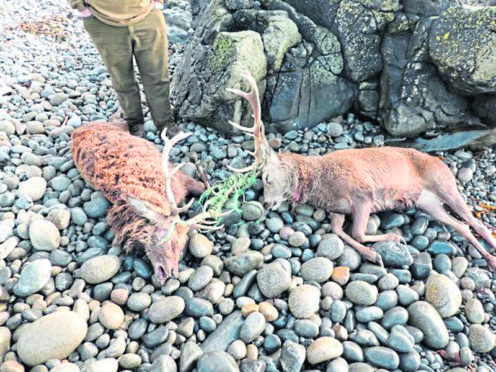 Two red stags died after becoming entangled in discarded rope on a beach on the island of Rum.
The grim discovery has highlighted the impact of marine litter on wildlife, according to Scottish Natural Heritage (SNH) and a north MSP campaigning against plastic pollution in the seas.
The beasts became snarled up in fishing rope and were bound together by their antlers.
Kate Forbes MSP said: "It is heart-breaking to see wildlife being hurt and killed by our thoughtless waste and litter.
"I've seen plenty of images of seabirds and sea creatures, but the deer on Rum show that land animals are also badly affected.
"There is more awareness than ever before about the impact of litter, particularly plastic litter, on our seas."
She added: "Clearly, the problem is so widespread that it will take years to rid our coastline of plastic debris.
"I hope the heart-breaking image of two stags who were killed because of our discarded rope reminds us all to take our litter home, whether we work on the seas or holiday on the beach."
SNH's Rum reserve manager Lesley Watt said: "Marine litter is a huge international problem.
"But small actions can make a big difference, and everyone has a part to play. Along with many organisations, SNH recently joined the campaign to bin plastic straws, and we're cutting down on disposable plastics by providing our staff with re-useable travel cups.
"If you use your own bag for life when shopping, or take litter home after a day at the beach, you could help save an animal's life."
The tragedy on Rum occurred last year, but the writers of SNH's Nature Scotland blog felt compelled to post the images for the first time this week to highlight the problem of marine litter, stating: "Most of us have seen upsetting images of turtles, whales, dolphins or seabirds entangled with plastics or discarded fishing gear.
"Perhaps less well known is the tragic effect that marine litter can have on land mammals when it washes up on our beaches.
"Sadly the two stags did not survive their ordeal."
It added: "Red deer stags with rope and netting caught on their antlers is an all too familiar occurrence, particularly around Scotland's West Coast.
"Thankfully it doesn't always end so tragically, as stags naturally cast their antlers in the spring. It's not unusual to come across shed antlers entwined with old rope.
"But the worst cases do end badly. Often the rope starts around the antlers but as the deer struggles to free itself, the rope catches its legs too.
"Rope can be surprisingly heavy and a sapping burden for a deer to carry around on its head. It can restrict movement, preventing the stag from feeding properly and leading to starvation."