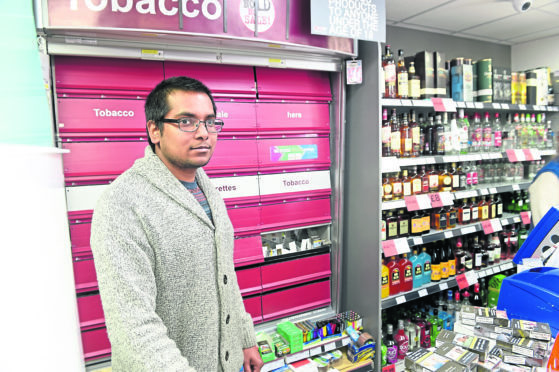 A shopkeeper in Inverness has told of his anger after thieves smashed their way into his local convenient store stealing £6,000 worth of cigarettes.
Rajkumar Dhanaraj, owner of Drummond Stores on Culduthel Road, lost the cigarettes and 15 bottles of spirits costing in the region of £500 to £600 in the raid – and his £150 float which had been in the till.
Mr Dhanaraj, 31, owner of the Spar store said he was in complete shock when he realised his local shop had been raided. He said: "I am okay now but I was in shock and nervous when I first got here. I think it must have been a local person who has been here several times as it was well planned; they knew exactly what they were doing.
"They broke the door, with some kind of material thing in their hands. They came into the shop and they knew exactly where the baskets were.
"They took the baskets and brushed all the cigarettes into them and all the spirits were placed into the bin. They also took the money from the till."
He added: "The bread delivery man noticed the shop had been broken into and called the police. The police were here and then they called me but my phone was on silent mode so as not to wake my 10-month-old back down again so I didn't pick up the call.
"Then I heard a knock at the door."
The bottom window of the stores main door was smashed to gain entry to the property, leaving Mr Dhanaraj to now consider stricter safety measures in the future, including the installation of shutter or a grill to the main door to ensure "it never happens again".
Mr Dhanaraj added: "I have owned the shop for one and a half years and we have had a couple of small shopliftings but never a serious thing like this. It's the very first time we have seen something serious happen. I just can't believe it has happened."
Police Inspector Mark Rasdale said: "We were informed of a break-in at a commercial property on Culduthel Road shortly after 5am this morning. Our inquiries are at an early stage and we would urge anyone who saw or heard anything suspicious overnight to contact us on 101."