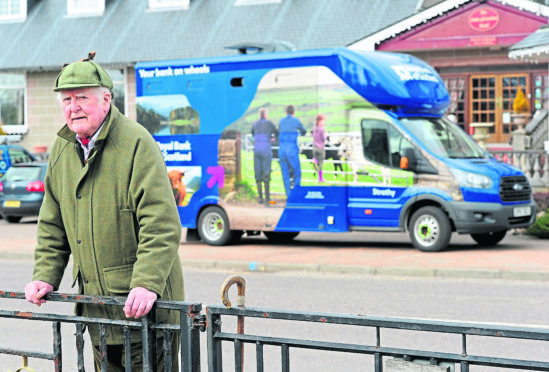 Angry north residents have dismissed RBS's plans to introduce community bankers in areas facing imminent branch closures as a "PR exercise".
The bank said yesterday that new roles will be created to serve communities in Grantown, Aviemore and Beauly, as well as in the Fort William area and Inverness, to "support customers wanting to discuss alternative ways to bank before the branch closures".
In the coming weeks, branches are set to close in Grantown, Aviemore, Nairn, Tain and Inverness Queensgate. The Wick and Mallaig offices closed last week.
The community bankers will be introduced from the start of next week, just days before several branches are set to close.
John Grierson, chairman of Aviemore and Vicinity Commuity Council, described the introduction of a community banker in his area as little more than a "PR exercise".
He added: "They would be far better if they left the bank open for people to go in to. I am fortunately one of those that the bank closures do not affect that much, but thousands of others are affected by this.
"I don't see anything positive in it at all. They need to rethink their strategy. But I think they have already made their minds up and that this is just a PR exercise."
Joseph Taylor, former chairman of Kingussie Community Council and a former bank manager for 20 years, agreed. He said: "RBS is not in the least bit concerned about the customers' review of this. In my opinion the banks no longer care for customers and want everything to be the way they want."
The bank initially announced it would be closing 62 branches across Scotland – 12 in the Highlands and Islands – in December.
But in February, bosses bowed to public pressure and announced a stay of execution for 10 branches – including Castlebay on Barra, Beauly, Kyle, Tongue and Inveraray – until the end of the year, pending an independent review to gauge future customer use and viability.
Concerns also surfaced yesterday over why the new community banker will also be serving Beauly, where the RBS branch is still under review.
But Beauly resident Garry Coutts, an RBS customer of 20 years, said: "It seems very odd, if not sinister, that they are bringing  a community banker to Beauly to 'support customers where their bank has closed' when they have previously stated they are conducting a review before making a decision on the banks future.
"Some might say it seems as though they have made up their mind before the review has been reported."
Inverness, Nairn, Badenoch and Strathspey MP Drew Hendry said the community bankers should have been introduced before a decision was taken to close branches – not afterwards.
He said RBS's handling of the branch closure proposals has been "extremely disrespectful of their customers and rural communities," involving little consultation, and that it is "unacceptable" these branches with small operating costs have been allowed to close, despite RBS making nearly £800 million profit in the first three months of the year.
The role of community bankers
RBS's new community bankers in the north include Dot Greaves, who will cover Aviemore, Grantown and Beauly, and Sharon Dykes in Fort William.
Ms Greaves will be available in the RBS branches in Grantown from 9.30am to noon every Thursday until June 7, and from 1pm until 4pm in Aviemore until May 31.
She will be based in Grantown Library between 10am and noon on Wednesdays and Aviemore Library community room between 4pm and 6pm on the same day.
Ms Greaves will provide one-to-one support to customers and to ensure that RBS remains an important part of the local community.
She added: "The impact of technological changes on the way people bank with us has been dramatic but we're also aware that not everyone is comfortable with these changes."
Through the role, she will be asked to "educate customers on being financially fit," to support them in ways to "bank in a digital world" and how to protect themselves from fraudsters.
The community bankers will conduct financial health checks with customers and will help them with new products and services "appropriate to their goals, needs and priorities."
They will also use social media to increase their community presence and share useful and relevant financial and digital information and tips.