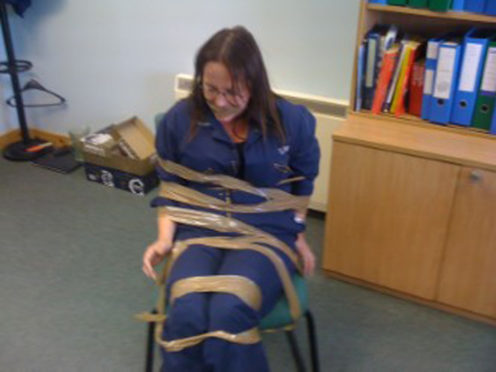 Nicola Sturgeon has ordered a full investigation after being left "absolutely horrified" by a photograph appearing to show a Highland government agency whistleblower taped to a chair and gagged.
The first minister has asked the Scottish Government's permanent secretary, Leslie Evans, to review the case of DeeAnn Fitzpatrick and report back to her personally.
Ms Sturgeon told MSPs she had been "shocked" by the image of Ms Fitzpatrick, a Canadian national, who claims she suffered years of bullying and harassment at Marine Scotland's office in Scrabster.
During a preliminary employment tribunal in November, the fisheries officer said she was mocked for having a miscarriage, repeatedly insulted and that her complaints were ignored during her time working at Marine Scotland Compliance.
She told the hearing in Aberdeen that she had been "taped to a chair by two of my colleagues and told this is what happens if you speak out".
A photograph of the alleged incident has now emerged and it was raised in Holyrood at yesterday's first minister's questions by Highlands and Islands MSP Rhoda Grant.
Ms Sturgeon said: "Like everyone else who has seen the photograph that has been in the media over the past 24 hours, I am absolutely horrified by it.
"I am also horrified by the circumstances in which that photograph is alleged to have been taken.
"Bullying, abuse, sexism and racism have no place in any workplace and — let me be very clear — they will not be tolerated in the Scottish Government or our agencies."
The SNP leader added that there was an on-going employment tribunal and internal investigation, but in addition she had asked the permanent secretary to conduct a "full review of the circumstances" and to "report to me personally on her conclusions as soon as possible".
The tribunal heard that Ms Fitzpatrick, who was then 48 and living in Janetstown, near Thurso, has been signed off sick from work since November 2016 and was seeking compensation.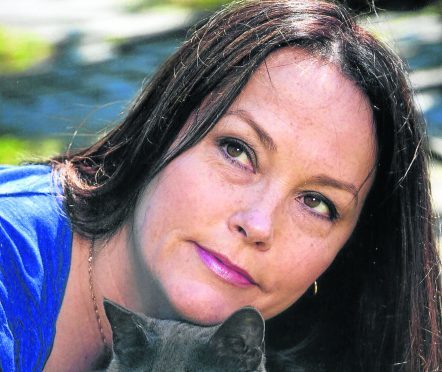 Her solicitor, Jillian Merchant, claimed she was sent Valentine's Day cards in 2015, 2016 and 2017 from someone she worked with, one of which referred to her as a "troll" and said "we miss you, not".
Ms Grant, a Labour MSP, said: "I welcome the first minister announcing that she has commissioned a review into the case, but it is still not enough.
"DeeAnn is still subject to a gagging clause, but it is in the public interest that her story is heard, so I still call on Nicola Sturgeon to remove this."