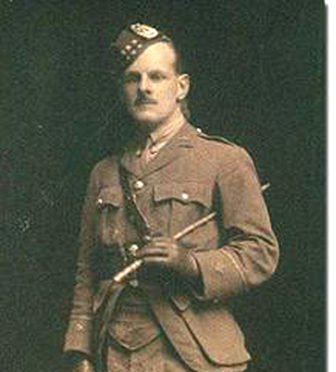 One of the most courageous Gordon Highlanders of his generation was honoured at a special ceremony yesterday.
Major Allan Ebenezer Ker was awarded the Victoria Cross during the First World War in 1918 for conspicuous bravery and devotion to duty.
A lieutenant in the 3rd Battalion The Gordon Highlanders, the 35-year was attached to 61st Battalion, Machine Gun Corps, when he performed exceptional acts of heroism during the conflict.
Armed with a single Vickers gun, he succeeded in engaging the enemy infantry, approaching under cover, and held up the German attack near St Quentin in France, inflicting many casualties in the process.
Although Lt Ker was exhausted from a lack of food, gas poisoning, and the exertions he had made during 10 hours of severe bombardment, fighting and attending to the wounded, he refused to surrender.
As his VC citation stated: "His behaviour throughout the day was absolutely cool and fearless and, by his determination, he was instrumental in engaging and holding up more than 500 of the enemy."
In recognition of his exploits, a plaque was unveiled outside Major Ker's home in Findhorn Place in Edinburgh yesterday by Her Majesty's Lord Lieutenant and the Rt Hon Lord Provost of the City of Edinburgh, Councillor Frank Ross and Lt Gen Sir John MacMillan KCB, CBE, Colonel of the Gordon Highlanders from 1978 to 1986.
The regimental secretary of the Gordon Highlanders Association paid his own tribute to Mr Ker, who died in London in 1958, aged 75.
Grenville Irvine-Fortescue said: "Lt Ker's citation speaks for itself and shows what a remarkable man he was – a man who showed extraordinary valour and who was totally selfless and with no thought for his own safety.
"One can only imagine what must have been the most appalling and frightening situation that these young men found themselves in and somehow they were able to put the fear behind them and find the strength to keep going.
"Lt Ker found that extra strength to achieve what he did and, quite remarkably survived. We can really only be humbled by such actions.
"In modern-day life, many may question the importance of remembering actions and sacrifices made by men such as Lt Ker.
"But his action is but one example, amongst many others in very different walks of life, in both past and more recent times, where actions to help, protect and support in order to save others is put before self."
The ceremony ended with a piper playing The Gordon Highlanders Regimental March, 'Cock o'the North'.