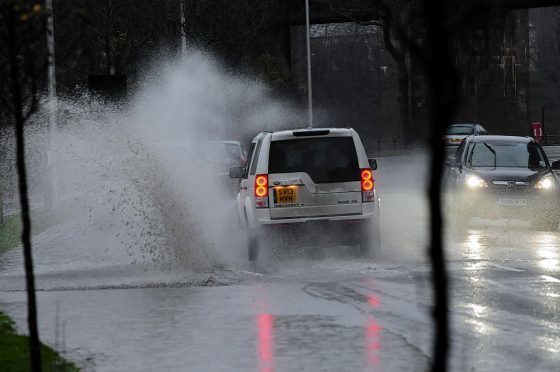 Scotland's stretch of summery weather may come to an abrupt end today with torrential rain and flood risks forecast for much of the country.
The Met Office has issued yellow weather warnings across the majority of mainland Scotland for heavy rains and thunder – with only parts of the north-east coast, Orkney, Shetland and the Western Isles being spared.
The Scottish Environmental Protection Agency has issued amber flood alerts for Nairn, Moray, Speyside, Skye, Lochaber and Wester Ross, as well as the central belt.
And more wet weather is predicted on Saturday, where the yellow weather warning will remain in place throughout the Highlands.
A Met Office statement said heavy rainfall could lead to flooding and difficult driving in certain areas and warned of transport delays and power outages due to rising water levels and lightning strikes.
Met Office forecaster Robin Steel, based in Aberdeen, said last night: "Haar will be affecting most of the North Sea coast tomorrow morning and it will by dry along the coast tomorrow, but later in the afternoon we will see heavy and potentially thunder showers developing across the country.
"But I wouldn't expect any showers at all for Aberdeen, Peterhead, Stonehaven and elsewhere in that part of the world – the wetter weather will be present throughout western Aberdeenshire, Moray and the Highlands.
"Many places will be lucky enough to miss them, but where they do occur there is the chance for local flooding and torrential downpours over a short period of time.
"We're expecting a very similar story for Saturday – low cloud and mistiness around the North Sea coastline and then further storms developing inland and in the Highlands in the afternoon.
"Inverness could be in the firing line on Friday, but on Saturday the thunder showers are more likely to affect the north-west Highlands.
Mr Steel said Sunday could be sunnier in some areas.
He added: "There's probably going to be more stormy weather on Sunday, especially on the west coast, but a lot less of it across Scotland compared to Friday and Saturday."