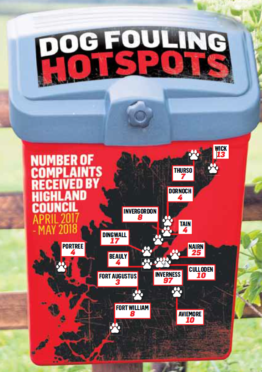 The number of complaints received by Highland Council about dog mess rocketed by 400% last year – but only 14 penalty notices were issued.
Reports of dog fouling rose from 71 cases in 2016 to 285 cases last year, with 102 complaints recorded this year until the end of May. In 2015 there were just 78 complaints, with 122 recorded the year before.
Nairn is a hotspot with 25 complaints, while there were 17 calls made in Dingwall and 13 in Wick – and nearly 100 complaints about alleged offences in Inverness.
But just 14 penalty notices – a total value of £1,120 – have been issued to dog owners by the 36-strong council team throughout 2017-18, a fraction of all complaints received.
Nairn Suburban and West Community councillor Richard Youngson said the issue was now "colossal and unacceptable" and was worsening as it becomes "more and more fashionable" to own dogs, and because local enforcement is not strong enough.
Mr Youngson, a dog owner himself, said the worst area for dog mess was a path at the back of Nairn's east beach.
He added: "It's a major problem. We don't have the same dog fouling problem in the town – it's more on the walks. It's horrible for the tourists as well and it gives Nairn a bad image.
"If they (dog wardens) started fining more people and publicising it then it might change things. We need much tougher enforcement."
Mr Youngson said the issue will be raised at the next community council meeting with ward councillors, aiming to form an action plan this summer.
There have been a total 33 fines issued over this period and all but one have, or are in the process of, being paid. An alleged offence at the Black Isle show ground last summer was withdrawn after an appeal was lodged and the timescale for payment was exceeded.
Five of these fines, which changed from £40 to £80 from April 2016, were issued for offences at Tain Links in 2017-18, with a sixth fine issued in 2014.
Other areas where fines were issued included a children's play area in Corpach, the canal-side rugby pitches in Inverness, Saltburn picnic area by Invergordon and Rosemarkie Beach.
In 2014 there were a total of 12 fines issued by the local authority, with four in 2015 and three in 2016.
In Aberdeen, the problem has been more with fines enforcement, with only £920 recouped of the £3,960 total fines issued to 69 dog owners since April 2014.
And Aberdeenshire Council has not issued a single fine since July 2016 – and only 10 in four years.
A Highland Council spokeswoman said it has boosted patrols and provided further signage.
She added: "During patrols, officers will discuss fouling with any dog owners and if they catch someone offending they will issue a fixed penalty notice for the current fine of £80.
"Areas such as Tain Links have been subject to further patrols and notices have been served. It is hoped further proactive targeted patrols will be carried out over the summer months."