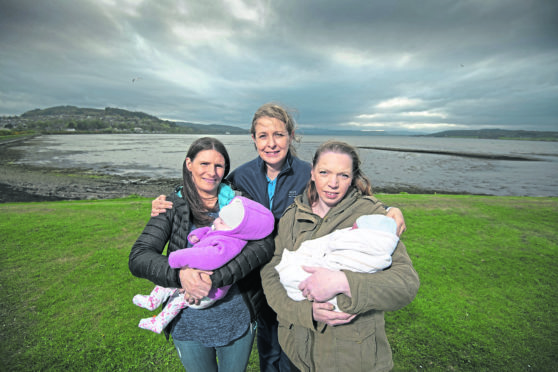 Mums-to-be in the Highlands are being invited to take part in a documentary to showcase the work of community midwifes in the north.
'The Highland Midwife' series, which was shown on Channel 5 last year, is currently filming its second series across the north and Argyll and Bute.
The documentary is scheduled to return again, with the production team eager to get more soon-to-be parents on the big screen.
Suzanne Fee, 25, from Campbeltown, took part in season one of the serious and expressed that any mums-to-be should seriously consider taking part.
She said: "The crew were amazing and came to our house beforehand for dinner so we could get to know them. When it came to filming I didn't feel like there was a camerawoman standing in the room, because I knew her so it felt quite normal. She'd also seen it all before.
"There's nothing to be scared of, you can have the birth filmed, but still retain your modesty. Throughout the whole thing you are asked if you're ok and they do all they can to keep you relaxed. You also get to see the footage before it goes out and that footage is yours to keep.
Susanna added: "I've never regretted taking part, I really would encourage anyone who is even thinking about it to speak to the team and find out more. It was a great experience. I'm gutted not to be pregnant this time round; I'd do it again in a heartbeat."
Jaki Lambert, lead midwife for Argyll and Bute, is pleased with how the first series showcased the work done across Highland by community midwives.
She said: "The three programmes showed great examples of high quality midwifery care across Highland and showed our staff doing amazing work in looking after mums and their babies.
"It was very well received both from members of the public and those in the profession and we are looking forward to being able to tell more stories about local mums and the fabulous care that our community teams provide."
Anyone interested in taking part should contact series Amanda McGlynn on 0141 332 0319 or by email Amanda.mcglynn@matchlight.co.uk.