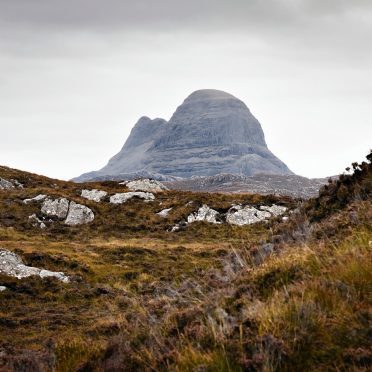 Walkers have swamped a Highland mountain which stars in a Sheila Hancock movie in a bid to follow in the actress's footsteps.
Already more than 1000 people have climbed Suilven in Sutherland since the release of the film Edie last month.
The 731-metre high mountain is undergoing a major facelift to help it cope with the flood of visitors wanting to follow in the actress's footsteps.
Hundreds of tonnes of stone and gravel are being carried by helicopter to the high slopes of the community-owned mountain.
The work continues over the summer, with the £200,000 project expected to be completed in August.
In the film Edie, Ms Hancock stars as an octogenarian who makes a lifechanging decision to climb its steep, remote slopes.
Gordon Robertson, manager of Assynt Estates, said Ms Hancock was kept an eye on by estate stalker John Venters during the long climb.
"Since the film was released we have been inundated by people wanting to climb Suilven," he said.
"In fact the response has bee phenomenal. It has become a bucket list thing for many people.
"We have had over 1000 already and we are even thinking about what we can do to help people who are less able in getting up it.
"We opened an honesty shop selling ice creams, coffee, water etc and that has been a major success too thanks to the walkers.
"I think a lot of people have been inspired by the fact that Sheila was 83 years old when she climbed the mountain and they think they can do it too. We haven't had to rescue anybody yet.
"The problem is that people are coming and there is nowhere for them to stay. The place is full up."
Mr Robertson also revealed talks were underway to bring the mobile cinema Screen Machine back to Lochinver in the autumn and Ms Hancock may also attend the screening.
"The screening last month was completely sold out and there were many disappointed people," he said.
"Sheila has indicated she would like to come, if commitments allow. She has a big fan club here – that's for sure."
Before beginning shooting, director Simon Hunter wrote on his blog:"I always wanted to use the mountain Suilven in Sutherland, it's my favourite – I have not climbed since I was a child."
The film tells the story of an elderly woman who has come through a lifetime of disappointment and regret. Faced with the prospect of life in the retirement home, Edie sets off to Scotland in order to climb a mountain and rekindle some of the magic of her youth.
The mountain path restoration work is being carried out by the John Muir Trust and the Assynt Foundation under the umbrella of the Coigach and Assynt Living Landscape Partnership. The first phase of the project was completed last summer and involves two path contractors and 10 workers.
Footpath officer for the John Muir Trust, Chris Goodman, said: "When we began the work last year, the main approach route was boggy and waterlogged and had begun to widen into an unsightly scar on the landscape.
"After four months of intensive work, we managed to transform it into a robust path that looks natural and blends in with its surroundings.
"This second phase will focus on a higher stretch of the route leading up to the famous summit. I'm confident that our great team of highly skilled path workers from contractors ACT Heritage and Arran Footpaths will do an equally outstanding job in the months to come, making Suilven a mountain of which the community can be even more proud.
"With the film Edie, we expect to welcome a lot of visitors to Suilven this summer, so the work is taking place at a fortuitous time. Last year's repairs and the work we're starting now will help minimise trampling damage to the vegetation and peat that runs alongside the path."
A fundraising appeal to support the work was backed by mountaineer Sir Chris Bonington, who lists Suilven as among his favourites.
Funding for the project has been received from the Heritage Lottery Fund, while the John Muir Trust has raised more than £ 75,000 – including £18,000 which was won in a Europe wide online poll in 2015.