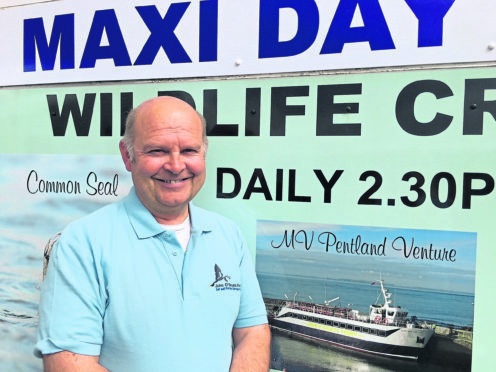 It has been hailed as a gamechanger for the holiday trade in the north Highlands.
But a John O'Groats businessman has claimed that he spoke to people about an idea to pull together a Highland circuit – nearly four years before the North Coast 500 was launched.
Fred Fermor thought the concept had withered on the vine after drawing a blank with his approaches to local tourism bosses.
The organisers of the NC500 said they were "completely unaware" of Mr Fermor's interest – and would have involved him had they known.
Mr Fermor, 56, said he contacted VisitScotland in 2011 with his idea to create the North Ocean Road, following much the same 516-mile route as the NC500.
At the time, he said: "I believe in time this could become one of the great drives of the world. It could become the northern hemisphere counterpart to Australia's Great Ocean Road.
"I think it would be a relatively cheap and easy thing to accomplish, but I think its rewards are potentially huge. A sign as you drive over the Kessock Bridge, north of Inverness – and you're on your way.
"The drive from Inverness to John O'Groats across the top and down to Ullapool is world class – I don't know if we really understand that yet.
"The road would thread together the pearls of the northern Highlands in an all-embracing way – where communities would be pleased to get behind the concept."
Mr Fermor was encouraged by the response his pitch elicited from VisitScotland and he was advised to contact North Highland Tourism as the best organisation to take it forward.
Mr Fermor duly did so but got no response to several approaches and the official he dealt with left the organisation shortly afterwards.
He said yesterday: "I heard nothing more and thought the idea had died a death. It all went quiet and the next I knew, the North Coast 500 was being launched in 2015."
Mr Fermor, a member of a family-run ferry business, remains in the dark about why he was blanked by NHT.
The North Highland Initiative – of which NHT was a part – and North Coast 500 both profess ignorance of Mr Fermor's initiative.
A spokeswoman said: "The originators of the North Coast 500 were completely unaware of this email exchange.
"Plans to develop what is now the North Coast 500 were conceived in late 2014, with no input from this conversation.
"The originators of the North Coast 500 have not met Mr Fermor, spoken with him, or had his correspondence brought to their attention.
"Indeed, had they known about his obvious enthusiasm and ambition for the north Highlands, they would have involved him in discussions."