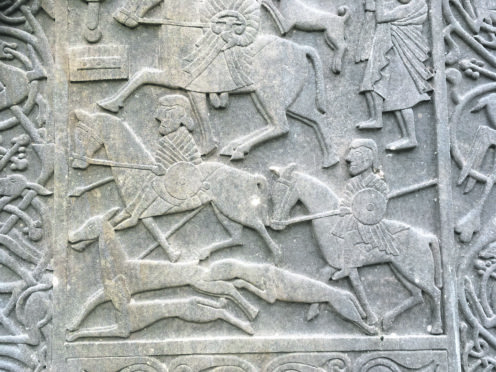 Vandals have targeted a popular landmark in a Highland village sparking fury among locals.
Visitors flock to the historically signficant Hilton of Cadboll Stone in Easter Ross, which was built to mark the site of an original Pictish stone in 2000.
However last week it emerged that vandals had hacked away at the stone causing extensive damage.
Both police and Historic Environment Scotland have been notified with the latter confirming it would be looking into it over the next few days.
The stone's sculptor Barry Grove said it was "harrowing" that someone had targeted his work after almost 20 years of no incidents.
He said: "It has been hacked by a blunt instrument, leaving chunks out of the carving. It's more upsetting at the thought of someone damaging it than the damage itself.
"It has shocked the local community. It's quite harrowing that it's happened after 18 years of being out in public. It's surprising that has happened after this length of time. Normally these sorts of things happen fairly quickly, not after 18 years of never being touched.
"It's still living, it's not been completely defaced. For now, it has exposed the clay stone underneath but this will die down over time."
The slab depicts a hunting scene, with the unusual twist of a woman being in the centre position.
Councillor Alasdair Rhind for Tain and Easter Ross said: "I have heard about the damage and it's sad that such a historic stone in the heart of seaboard villages has been damaged.
"It's such a historic interest and is visited by dozens of people every day. It's very important on the tourist trail and it's an important landmark for people to go to. It's very disappointing what has happened here.
"This cannot be tolerated in this community. I hope the police will take strong action to find the culprits here and bring them to justice."
Fellow ward councillor Derek Louden said: "Those stones are an important part of our history. It cannot be replaced and it's really hard to believe that someone would do that."