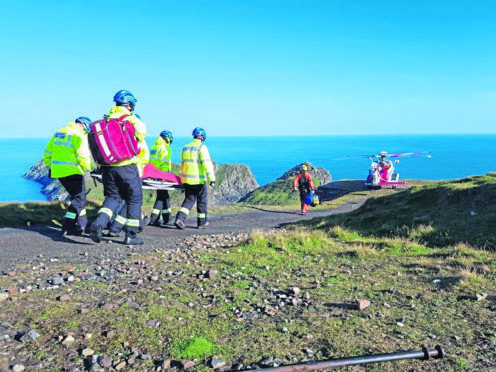 An 87-year-old man who almost slid to his death on St Kilda was described as "extremely lucky" to escape with his life yesterday.
Coastguards said the man had slid 100 ft down Mullach Sgar which is 722ft high.
A spokesman for Stornoway Coastguard said: "He was a lucky chap. He ended up on a ledge and several hundred feet above the sea. We don't know how he slipped, but it was great work by the teams to rescue him."
Coastguards abseiled down some of Britain's highest sea cliffs to reach the man, who has not been named. He had cuts to his legs and was airlifted to hospital in Stornoway.
St Kilda is owned by the National Trust for Scotland (NTS).
Susan Bain, NTS manager for the Western Isles – who has responsibility for St Kilda – said the man had landed on the main island of Hirta from a tourist boat on Tuesday and was planning to camp on his own .
She added: "He was extremely lucky. There is a lovely walk from near the radar station with great views. But it just shows that even in this fine weather it is important to watch what you are doing.
"Ultimately we are all responsible for our own actions but people need to take care and heed any advice. I understand he was hoping to camp. He was on his own and had travelled by tourist boat. We get around 5,000 visitors during the summer and people need to take care ashore.
"The coastguards did a fantastic job in rescuing this man. They and the helicopter and lifeboat crews deserve a lot of praise."
A rescue helicopter could not initially reach the man for fear of the engine draft blowing him over the edge.
The Stornoway Coastguard spokesman said rescuers only returned to base at 3am yesterday – 13 hours after first being alerted. The rescue itself took "several hours".
The spokesman added: "Once on site, it was apparent that a swift deployment of a rope technician was required as the casualty was in a very precarious position.
"The team then set up a second set of lines to lower a second technician with a stretcher to recover the casualty. The rescue was very challenging for the team in what was very difficult terrain and required excellent teamwork to ensure the casualty was recovered successfully to Coastguard Helicopter Rescue 948.
"A special mention to our rope technician, Nathan Harris, who was deployed initially to stabilise the casualty.
"The rest of the team must be equally acknowledged for the support they provided at the cliff top. The team train regularly to be prepared for situations like this and should be very proud of their efforts.
"We wish the casualty a speedy and full recovery."