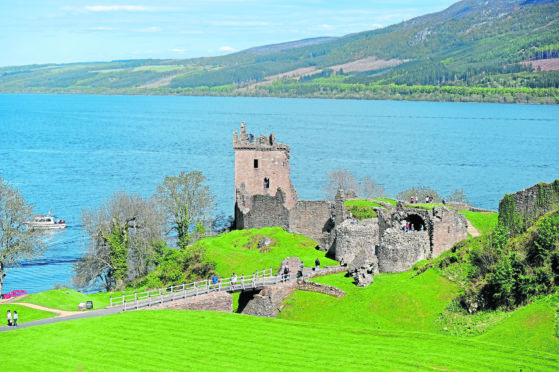 The world is one step closer to finding out what lurks in the murky waters of Loch Ness – and scientists have not completely ruled out she may be a giant catfish or eel.
But the international research team says it did not encounter the Loch Ness Monster while testing samples of water from the famous loch.
The scientists said they analysed microscopic fragments of animal skin and scales found floating on the surface of the water.
VIDEO: Search for Nessie as scientists conduct water DNA sampling
While they did not come face to face with Nessie, they suggest there may be a "biological explanation" for her.
They gathered 259 water samples earlier this month. Samples were taken from around the loch and from up to 200m (656ft) down.
The team, consisting of researchers from the universities of Otago in Copenhagen, Hull and the Highlands and Islands, did the work between June 2-16.
There is speculation that new species of life, particularly bacteria, could be discovered through the DNA analysis as well as evidence of invasive species, such as Pacific salmon.
The project has attracted international media attention.
Prof Neil Gemmell, of New Zealand's University of Otago, said: "Environmental DNA is reasonably new so still has some form of novelty.
"But, when you link its power to documented life in a given system, with the world's most famous body of water, within which a monster "Nessie" is reputed to reside, people really take notice."
He added:"Miraculously, for the Highlands, the wind stayed light and the rain stayed away – the weather was very much on our side – allowing us to collect hundreds of samples in a relatively short space of time.
"Wouldn't it be amazing if we did find something extraordinary during our investigation.
"Is there anything else, perhaps something unusual, such as a giant catfish, sturgeon or eel, or a species unknown to science? It seems unlikely, but who knows?"
Results of the project are expected in early 2019.
The sequence data will be sent to labs in Canberra, Copenhagen, Grenoble, Santa Cruz, Inverness, Hull, Baltimore and Dunedin where the gene sequences will be analysed and compared to samples stored on international DNA databases to identify each species present in the loch.
Sightings of the Loch Ness Monster set new global records last year – and there have already been three so far this year.
Nessie's 11 accepted sightings in 2017 were the highest this century.