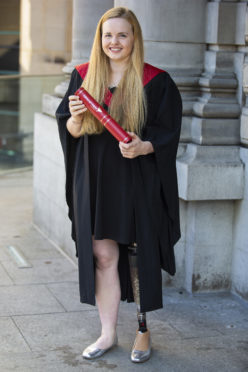 A Sutherland student who fundraised online to have her leg amputated weeks before starting university has graduated with an honours degree.
Hope Gordon, 23, from Rogart, was diagnosed with Complex Regional Pain Syndrome (CRPS) when she was 12, leaving her dependent on crutches and sometimes a wheelchair.
After raising £10,000 – some of it from strangers – to have the life-changing operation in August 2016, Miss Gordon began adjusting to university life while trying to learn to walk with a prosthetic limb.
Almost two years on, the inspiring athlete graduated alongside her classmates at Edinburgh Napier University at a ceremony in the Usher Hall yesterday.
Miss Gordon spoke of how she overcame the challenges she faced during her Sport and Exercise Science course.
She said: "In the end the only thing I really could not do was run on a treadmill. I could manage lectures, lab reports, exams and even practicals on a rowing machine or a bike, but anything involving running or standing for a period of time was difficult.
"However, I am different to most people who have lost a leg in that I saw it as a good thing which allowed me to get on with activities which I could do, like swimming.
"I think academic staff recognised my positivity and didn't treat me any differently, other than being understanding if I needed to sit out on a practical, and it is great to round off university with the fantastic experience of graduation day."
With a positive outlook on the future, Miss Gordon is now preparing for the challenges of working life – contemplating a career in physiotherapy – as well as continuing her training towards her ultimate goal of representing Team GB at the Paralympic Games.
She added: "I have some way to go to reach the required standard but swimming helped me a lot before my operation, and it remains my way of dealing with things.
"My outlook on life is 100% positive."
Pete Laird, programme leader in Sport, Exercise and Health Science, said: "Not only has Hope grown in confidence during her time with us, but educationally and intellectually she has blossomed in her Honours year.
"Her determination is clear to anyone who has ever met her, but her humility and humour make her a delight to work with, so much so that she became a student ambassador for us."