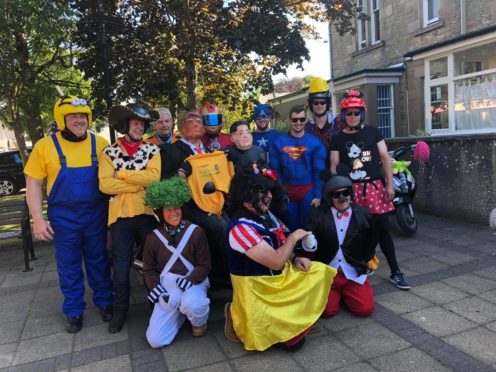 A group of 15 friends in the Highlands have begun a charity scooter ride round the NC500 in memory of a friend.
The group all dressed in fancy dress costumes, set off on their four-day ride from Alness yesterday morning, covering 440 miles of the iconic route before their return on July 1.
This will be the second time the team have travelled the route, having raised £8000 for charity last year; however, not long after the event Robin Finlayson, one of the original group to organise the route, sadly passed.
In memory of their fellow rider, Garry Coward decided to organise 'Robin's Run' and donate all proceeds to the Highland Hospice.
Kevin Rostock, 47, is one of the riders taking part in this year's run. His daughter Megan, 22 spoke of her admiration for the team's effort, saying: "They participated in it last year with Robin being a fellow rider but close to the end of last year, Robin very sadly passed away.
"Although it wasn't cancer-related it is still a cause very close to everyone's hearts and they decided that the Highland Hospice would be the chosen charity again this year and they would call it Robins run in his memory.
"I'm very proud of my dad participating in this worthy cause and I'm sure Robin will be looking down on them all laughing at them dressed up. I don't think they have a set amount they want to raise as every penny counts. If you feel like donating please go onto the JustGiving page."