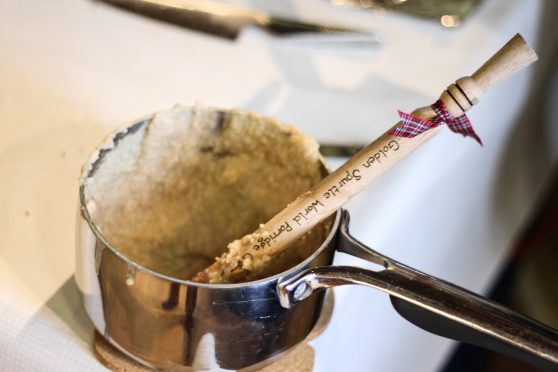 A record number of entrants have applied to take part in the 25th world porridge making championships in Carrbridge this October.
For the first time ever organisers of the Golden Spurtle World Porridge Making Championships had to create a shortlist to whittle down the huge number of entries.
Many of the participants, including the reigning champion, are travelling from overseas from as far afield as Canada, the US, Estonia, Russia, and even Australia as well as Sweden, Finland, France, Germany.
Meet this year's winner of the world porridge-making championships
Among them are a Russian café owner, a Finnish pastry chef, a Canadian mother of two, a France former designer who is "unconditionally in love with porridge" and a Scottish optometrist researching the connection between oats and eye health.
Alongside defending 2017 champion, Ellinor Persson, a steel industry worker from Sweden, will be two fellow Swedes aged 12 and 13 who love to cook porridge while the youngest entrant is 11.
Championship organiser Michelle Green said: "We've been simply inundated with entries for this year's Golden Spurtle World Porridge Making Championship and it's terrific to see such a level of interest from across the world in this most humble of dishes.
"We're also particularly delighted to be able to put on a Young People's heat for under 26s. We've certainly seen the standard of dishes entered rise year-on-year with entrants creating traditional porridge with universal appeal alongside seriously creative porridge dishes."
She added: "While we're delighted to see such a high volume of entries, we're sorry not to have been able to accommodate everyone wishing to compete this year. We'd urge those who haven't been selected this time to enter again in the future."
World's best porridge makers to take up their spurtles in Carrbridge
The World Porridge Making Championships is organised by Carrbridge Community Council and is sponsored by oatmeal producer Hamlyns.
The coveted title of World Porridge Making Champion is awarded to the contestant deemed to have made the best traditional porridge using just three ingredients – oatmeal, water and salt.
The judges include the former head chef at Gleneagles, Colin Bussey, the owner of the Auld Alliance in Kingussie Lydie Bocquillon and Neil Mugg who is the former Head Pastry Chef at Glengeagles."