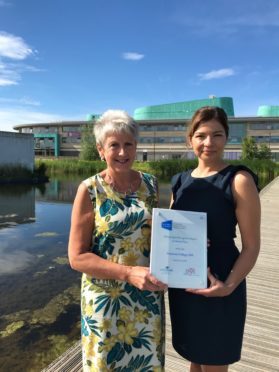 Inverness College UHI has become one of the first institutions in Scotland to receive the Carers Trust Going Higher for Student Carers Recognition Award.
In the past year, the education establishment has been working towards the award supporting carers in ensuring a fair chance to succeed is exhibited through the relevant support networks deployed.
Evelyn Campbell, Inverness College UHI access and progression manager, said: "We recognise the difficulties student carers face attending college or university and they are four times more likely to drop out than their peers.
"I am absolutely delighted to achieve this award because it send outs a clear message to any carer considering study that we will do our upmost to help them succeed, and that inclusivity and fairness is at the heart of what we do."
Additional funding and absence flexibility, where necessary, are offered by the college to ensure student carers are offered as fair an opportunity to succeed as their peers are.
Staff are trained to support carers with the college running dedicated coffee mornings and lunches to develop a larger base network.
Louise Morgan, director for the Carers Trust in Scotland and Northern Ireland, said: "This award highlights the institution's commitment to proactively support student carers to help them fulfil their potential. It is vital that together we raise awareness of student carers and ensure they are at the forefront of the higher education agenda in Scotland."