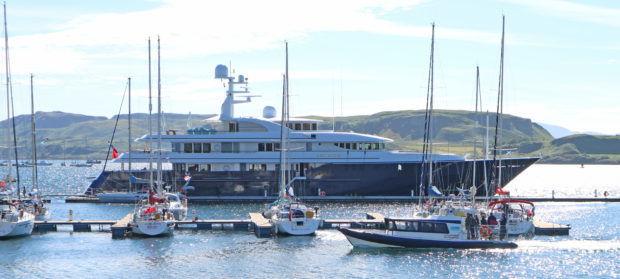 The biggest vessel yet to call at Oban's new pontoons – a super yacht owned by a billionaire hedge funder – has berthed in the town.
Archimedes, a luxury 230ft long motorised yacht, dwarfed the boats sitting next to it on Thursday.
It had to berth alongside the outside of the 280ft breakwater as this was the only place it could be accommodated.
American owner James Simons founded Renaissance Tech in 1982 and is said to own assets worth 15.5billion US dollars.
The yacht is worth $100million and was custom-built and delivered to its owner in 2008.
It can carry 12 guests in six cabins and 18 crew in eight cabins. The yacht is not available for charter, however it is not known if Mr Simons was aboard when it called at Oban.
Argyll and Bute Council opened the new pontoon development one year ago to bring an economic boost to the town.
A spokesman for the council said: "We are always pleased to welcome new visitors to Oban North Pier Pontoons. Being able to accommodate vessels of this size does help to attract more visitors to the area, which is a key priority for the council.
"The ambitious pontoons project aims to make Oban a focus for the west coast marine industry and we are delighted with its success so far."
Archimedes is named after the Greek mathematician Archimedes of Syracuse. He was credited with the discovery that the buoyancy of an object is equal to the weight of the water it displaces.
Argyll and Bute Council's £3.1million investment includes the pontoons and a new harbour building and maritime visitor centre.
The pontoon development also provides step ashore facilities for cruise ships.
In its first full season it is bringing an extra 2,000 people a week into the town.
The figures include 200 people every week day and 400 at weekends. Around 50 boats a day are berthing there.
Yesterday the cruise ship Prinsendam, with 800 passengers, visited Oban.
Guests took the chance to stroll around the town and visit the local shops.
The ship is from the Holland America Line and is nicknamed the Elegant Explorer.
Among her on board attractions is a casino.