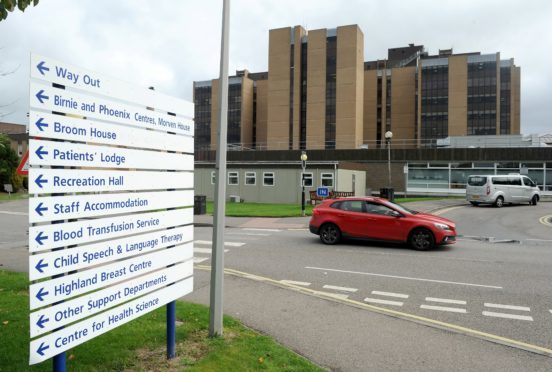 NHS Highland has admitted it experienced a "challenging" year caring for stroke patients after a drop in performance against key targets.
A new report has shown it was the only health board in Scotland to record a "statistically significant decline" in the percentage of stroke patients receiving an "appropriate stroke care bundle".
The proportion of patients receiving stroke unit admission, swallow screen procedure, brain scan and aspirin within target times dropped from 60% in 2016 to 48% last year in Highland.
Meanwhile, across Scotland, provision of the appropriate stroke care bundle improved from 61% to 64%, but it remained "some way short" of the 80% target.
Specific issues at Highland appeared to relate to care at Raigmore Hospital in Inverness, where performance against the standard fell from 51% to the joint lowest level in Scotland, at 41%.
Another factor may have been a dramatic decline at Caithness General, which went from being the only hospital in Scotland performing above the national target, at 84% in 2016, down to 58% last year.
Most other boards improved their performance against the target in the year, with NHS Orkney's rising from 44% to 67%, NHS Shetland going from 53% to 74%, NHS Grampian up from 63% to 67% and NHS Western Isles rising from 43% to 52%.
The NHS Scotland Information Services Division report said strokes were the third biggest killer in Scotland, with deaths "exceptionally high" compared to elsewhere in western Europe.
Each strand of the actions for "appropriate care", which include admission to a stroke unit within one day, a brain scan within 24 hours, a screening test in four hours and asprin within a day, were under target.
Within the report, NHS Highland said: "Performance in this area has in NHS Highland been challenging over the last 12 months and to some extent reflects challenges in hospital flows across the board area.
"In particular the stroke unit at Raigmore has had spells of closure which has impacted on our ability to admit patients.
"However a recent review of the process at the daily hospital huddle (Raigmore) for identification of stroke patients and those awaiting beds on the stroke unit has raised awareness of the importance to the need for admission to the unit.
"Development of criteria for use of the beds has taken place and been introduced."