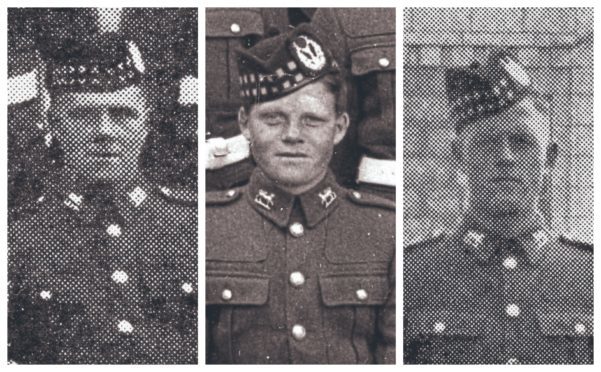 They were the forgotten victims of the Second World War.
But this weekend, a new documentary will chronicle the story of the 51st (Highland) Division, who suffered horrific loss of life in the aftermath of the Dunkirk evacuation in France.
In June, 1940, the division was forced to surrender, at St Valery en Caux, to the German general, Erwin Rommel.
Some 10,000 survivors, from the Black Watch and the Queen's Own Cameron, Seaforth and Gordon Highlanders, were captured during the hostilities and spent the remainder of the war as prisoners, often enduring appalling hardship.
The programme, which will be shown on Channel 4 on Sunday, July 15, highlights both the heroism and the privations experienced by the Scottish troops.
It includes such poignant stories as the fate of a trio of brothers from Rosehearty, William, George and Charles Carle.
The youngest, George, was killed in action on June 11, aged just 20, while defending St Valery, while Charles was captured and spent the next five years in Stalag 20B in Poland.
Their older sibling, William, was called up at the start of the war as a reservist, but was detached from the 1st Battalion to serve as a driver for Briagadier Dougie Usher, who had previously been its commanding officer.
Both men subsequently displayed courage under fire, with William receiving the Military Medal for gallantry and Brig Usher being awarded the Distinguished Service Order.
Stewart Mitchell, a historian at the Gordon Highlanders Museum in Aberdeen, has written a book "St Valery and its Aftermath".
And he said he was determined to highlight the many brave acts which were carried out by the men, whose exploits have often been overshadowed by the "miracle" of Dunkirk.
He added: "It was hoped that another evacuation of the men by the Royal Navy would be possible from the small harbour at St Valery-en-Caux, but it was very foggy, so the ships were unable to approach the shore.
"Hardly anybody has heard of St Valery, but the 51st (Highland) Division was effectively left behind and around 1,500 to 2,000 men were killed.