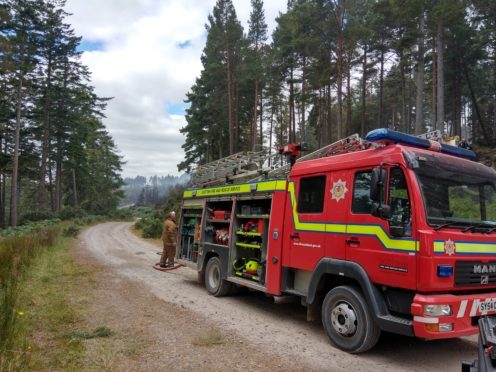 A senior Highland councillor has praised the "truly remarkable" level of support shown by the north communities to the emergency services as firefighters finally defeated a blazing wildfire which took hold in Sutherland.
Hundreds of people from communities across the north provided firefighters, police officers and paramedics at the scene in Golspie with hot and cold refreshments – in the form of freshly made soup, baguettes sandwiches, scones, fish suppers and snacks – as well as a constant flow of piping hot teas and coffees.
As news and the scale of the fire became clear – at one point threatening property and forcing residents to keep doors and windows shut to avoid smoke inhalation – individuals and businesses from across the Highlands became involved, with a mass of of produce donated to the cause on a daily basis.
Councillor Deirdre Mackay for East Sutherland and Edderton spoke of her pride at the community's efforts, saying: "It was truly remarkable how people came together so quickly and got themselves organised very quickly and quietly. Food was produced on an industrial scale and people have been bringing up provisions to Ben Bhraggie for fire fighters.
"The food flow was constant and the response from local businesses was also tremendous. There was no question of the commitment of the community for the firefighters and the other emergency service supporting them.
"I am very proud of the communities. They rose to this challenge and they did it quickly and with a great deal of dignity. The response from each of the communities – that is how communities work.  I am very proud of them."
Fire crews were first alerted to the blaze at Ben Bhraggie around 12.04am on Saturday, and it took five days to finally extinguish and dampen down to prevent further blazes.
One fire crew from Dornoch remains at the scene keeping watch.
Deputy Assistant Chief Officer John MacDonald, the officer in charge of the incident, expressed his thanks on behalf of the force for the public's generosity.
He said: "The level of support shown to us by the community of Golspie has been outstanding.
"The community absolutely rallied behind our efforts to extinguish this fire – we received dozens of donations ranging from crates of bottled water to chip shop suppers.
"I would like to take this opportunity to thank the community once again for their overwhelming generosity and hospitality, and again thank the efforts of our partners and our dedicated firefighters."
North MSP Gail Ross has lodged a motion in the Scottish Parliament praising the efforts of all involved during the wildfire, adding: "The level of team work and community resilience during the fire was simply second to none. The community, businesses, the local estates, the Highland Council and the emergency services all worked so hard to ensure that people were safe, looked after and the least amount of damage possible was suffered to property and livestock.
"Fire crews from the length and breadth of the Highlands who assisted with this fire have been thanking the community for their support and help during the difficult conditions, I share their gratitude, the community really did make a massive impact on supporting those who were bravely fighting the fire."​