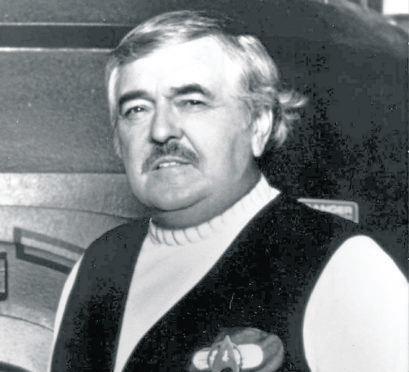 Scotland has always been at the forefront of scientific advances.
So it shouldn't come as any surprise that A'Mhoine Peninsula in Sutherland has been chosen as the location for Britain's inaugural space port.
After all, two of the first four men to walk on the moon in the late 1960s were proud of their Caledonian heritage.
The first and most famous astronaut of them all, Neil Armstrong, told the world he regarded Langholm in the Borders as his home community.
In 1972, the quiet American of Apollo 11 renown made the pilgrimage to the south of Scotland after accepting the invitation to become Freeman of Langholm.
Local resident, Grace Brown, recalled: "There was bunting everywhere and the pipe bands were out. As Neil entered the church, the organist began to play 'See the Conquering Hero Come.'
"There was a new tartan commissioned for his visit. It was called the Lunar tartan and the colours were inspired by those of the moon."
Mr Armstrong, who died in 2012, was clearly delighted to learn about his family roots and spoke movingly about how much they meant to him.
He said: "The most difficult place to be recognised is in one's own home town and I consider this to be my home town."
One of the fliers on the Apollo 12 mission, Alan Bean, died in May, but not before speaking of his devotion to the clan MacBean, originally based in Inverness.
Many MacBeans emigrated to North America in the late 18th and early 19th centuries – some as explorers, some as settlers and some through military service.
He said in 2005: "I took some MacBean tartan to the moon and returned it to Earth, so it has gone all the way to another world.
"And I have still got some of it in my possession. It means a lot to me."
Closer to Scotland, Brian Binnie became Scotland's first astronaut in 2004 and remains at the forefront of developing commercial space travel.
He was the test pilot for SpaceShipTwo, which formed the centrepiece of Sir Richard Branson's Virgin Galactic project.
And the man who grew up in Milltimber in Aberdeen – and who received an honorary degree from Aberdeen University in 2006 – has always been fascinated by exploring the 'inky blackness' of space.
He said: "Even though I was born in Indiana, everyone else in my family is Scottish and my formative years were spent roaming around the north east countryside."
And no list would be complete without focusing on one of Scotland's most famous space travellers, Montgomery "Scotty" Scott, from Star Trek.
Although James Doohan, the actor who portrayed him, was actually Canadian, scripts from the original series revealed that the character will enter the world in Linlithgow – on June 28, 2222.