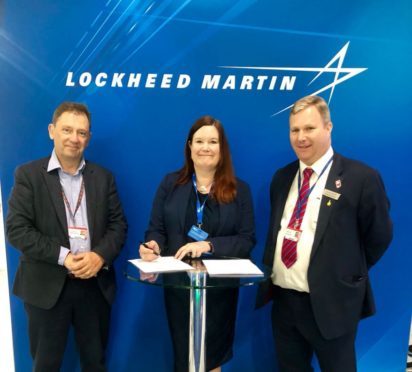 Shetland has moved a major step towards hosting its own space centre – just days after plans for a satellite-launching site in Sutherland won backing.
Island leaders were celebrating last night after one of the world's biggest aerospace firms agreed to help establish a satellite tracking and communication centre in Unst.
The deal between Lockheed Martin, Shetland Space Centre and Shetland Islands Council was hailed as a "highly significant" milestone.
And it was hoped it could help pave the way for Unst also being used as a launch site.
The move follows the announcement on Monday that Lockheed Martin would establish the launch operations at a new spaceport on the north coast of Sutherland, which is to be developed with financial backing from the UK Space Agency and Highlands and Islands Enterprise (HIE).
HIE said that the Sutherland plans were "stronger overall" than other bids from Unst and North Uist, but that "we want to work with others" to spread the benefits.
A memorandum of understanding was signed yesterday by Shetland Space Centre project director Scott Hammond, council chief executive Maggie Sandison, and Patrick Wood, head of Lockheed Martin Space UK.
Mr Hammond said: "This partnership with Lockheed Martin is a huge vote of confidence in the potential of Shetland to become a major hub for the space industry in the UK."
He added: "The support for proposed space activity in Sutherland is good news, and shows the strength of the sector in Scotland.
"We are continuing with our launch site plans and this work is attracting a great deal of interest from a number of launch providers."
Mrs Sandison said: "It's clear that Shetland has geographical and physical advantages for the development of both launch and tracking facilities, backed up by supply chain and logistical knowledge and expertise that will benefit the space industry."
Mr Wood said: "As the UK launches into the next space age, the Shetland Space Centre is an ideal location for vital ground stations as well as space situational awareness technology."
Shetland MSP Tavish Scott said: "This is a highly significant day for Unst and the plans for a spaceport, with all the jobs, investment and activity that will flow as a result."
Meanwhile, Prime Minister Theresa May gave her backing to the Sutherland plans yesterday, saying: "This is the start of a new space age in the UK – it is a huge boost to our world-leading space sector, making the UK a one-stop shop for new satellite services."