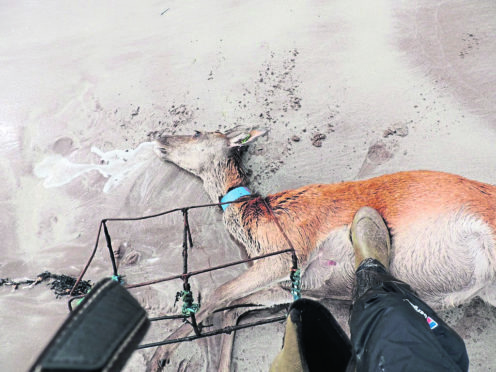 A red deer has endured a horrific death on the Isle of Rum after getting trapped in a piece of fishing gear while foraging on the sea-shore.
The three-year-old hind, known to the Rum Deer Research project as Henna, was spotted by a research team member struggling in the sea – but the deer could not be revived following a rescue attempt.
The old metal creel frame involved was one piece of tonnes of pollution that washes up on Rum's shores, the project said.
The researcher who spotted the struggling animal said: "Alive when spotted struggling on her side in the sea, she drowned and stopped moving as I ran to rescue her despite trying chest compressions. When I dragged her out she didn't revive."
The death is the latest casualty among the island's herd resulting from marine pollution.
Last year, two stags died after their antlers became tangled in fishing rope and another stag was photographed with rope and other debris in its antlers.
It highlighted the impact of marine litter on wildlife, according to Scottish Natural Heritage (SNH) and north MSP Kate Forbes who is campaigning against plastic pollution in the seas.
Miss Forbes said: "According to the latest figures, more than 640,000 tonnes of fishing gear is lost or abandoned in the ocean each year.
"What perhaps most people don't realise, is that even though it's not immediately obvious to us on land, this equipment can continue to endanger marine wildlife for many years to come.
"What happened earlier this week on the Isle of Rum, with the red deer becoming entangled in fishing gear, is desperately sad.
"I will be visiting the island next month, and hope to speak to members of the community to discuss what can be done to drastically reduce the risk of something like this happening again."
Rum's population of red deer have been the subject of scientific research since the 1950s.
Researchers study the animals to better understand their behaviour and the effects of climate change on deer.