A specially-trained dog has been flown in from New Zealand to detect non-native stoats to help safeguard Orkney's native wildlife.
Fox terrier Macca, also known as Mac, and his handler Angela Newport have arrived in the islands to start their role in the world's largest island eradication project.
The Orkney Native Wildlife Project, a partnership between Scottish Natural Heritage and RSPB Scotland, aims to remove stoats which pose a serious threat to native wildlife including the hen harrier, short-eared owl and other ground nesting birds such as red-throated divers and Arctic terns and curlews.
Many of these species support Orkney's thriving wildlife tourism industry.
Stoats are native to the UK mainland but not to Orkney and were first recorded in the islands in 2010. Since then the population has increased and they are widely distributed through mainland Orkney, Burray and South Ronaldsay.
But there have been potential sightings of stoats reported in Rousay, Hoy and Shapinsay, which are deemed "high-risk" islands as stoats can swim nearly two miles.
And four-year-old Mac has been brought in to sniff out whether there are any stoats on these outlying islands over the next three months, prior to the eradication project starting.
Ms Newsport, 38, a dog handler with 10 years' experience, said: "We are here in Orkney to do what we do best – seek out the sign or scent of stoat presence, particularly on the islands surrounding mainland Orkney.
"Mac loves his job and is surely happy to be here, and he does have a rather Scottish sounding name, which hopefully puts him in good stead for making friends."
There are currently no conservation detection dogs trained to search for signs of stoats in the UK which is why Mac has been flown in.
Plans are also in place to train six more conservation detection dogs to make sure there are no stoats left after the eradication project is finished.
No stoats will be harmed by the dogs which will be wearing  muzzles, and an RSPB spokeswoman assured the trapping of the stoats would be done humanely.
However Elisa Allen, director of People for the Ethical Treatment of Animals (Peta), described the culling as a "hideously cruel and ineffective way" to manage Orkney's stoat population.
She stressed that humans brought stoats onto the islands in the first place, means their presence in Orkney is no fault of the animal, adding: "At the very least, we owe it to them to find a peaceful, humane solution."
Video credit: Orkney Native Wildlife Project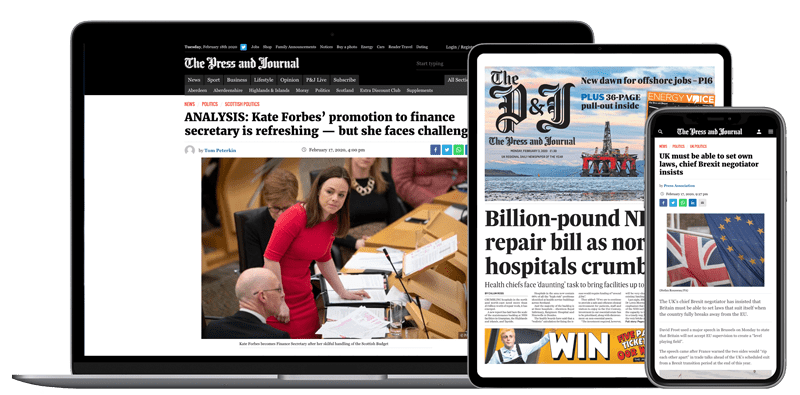 Help support quality local journalism … become a digital subscriber to The Press and Journal
For as little as £5.99 a month you can access all of our content, including Premium articles.
Subscribe