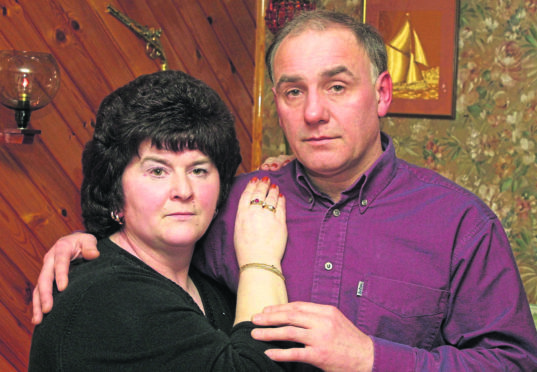 Police investigating the mystery death of Kevin MacLeod at Wick Harbour 21 years ago have "finally" interviewed his family about the latest alleged eyewitness account – seven months after he came forward.
The alleged witness claimed in January that he had seen a struggle close to where Kevin died in the early hours of February 8, 1997.
He told police that on his way home he had heard a commotion, a splash, then saw two people – who he said were police officers – standing watch Kevin struggle in the harbour.
Police Scotland later said they were to interview 15 potential witnesses following new information provided in the case.
Kevin Macleod's family welcome police complaints review after they claim the probe into his 'unexplained' death was flawed
The revelation had initially "encouraged" the electrician's family that the investigation into the death, which they believe was murder, was making progress.
But last night they revealed they had again become "disillusioned" by the reaction of police.
Kevin's uncle Allan MacLeod, speaking on behalf of his tragic nephew's parents, Hugh and June MacLeod, revealed they had "finally" been interviewed about the eyewitness account.
The uncle said: "Detectives from Police Scotland's homicide division visited Kevin's parents and myself just two weeks ago to obtain statements regarding this eyewitness's claims.
"We question and are suspicious as to why statements were only obtained from family members recently when the witness had given a statement to police in January.
"This witness was the first eye witness, but fourth witness, since Kevin's death to have informed the family of police involvement with Kevin's death. The other three witnesses were swiftly discredited by Northern Constabulary."
The body of the Wick electrician was recovered from Wick harbour on February 9, 1997, with police describing the death as "unexplained".
It was discovered he had suffered serious internal injuries.
The family only discovered 10 years after the tragedy that a procurator fiscal had at the time instructed legacy force Northern Constabulary to investigate Mr MacLeod's death as a potential murder inquiry, but they did not act on that instruction.
Last year Kevin's parents were given a personal apology from Assistant Chief Constable Iain Livingstone, currently the most senior officer in Scotland, over the handling of the case.
The Scottish Government announced earlier this year than an independent review is to take place into how complaints against the police are handled. It will be carried out by the former Lord Advocate, Dame Elish Angiolini.
Detective Chief Inspector Mark Bell, of Police Scotland's Homicide Governance and Review Department, said: "As with any ongoing investigation, Police Scotland cannot comment or confirm who has or who has not been spoken to or in what chronology any persons may or not have been spoken to during the course of an investigation."