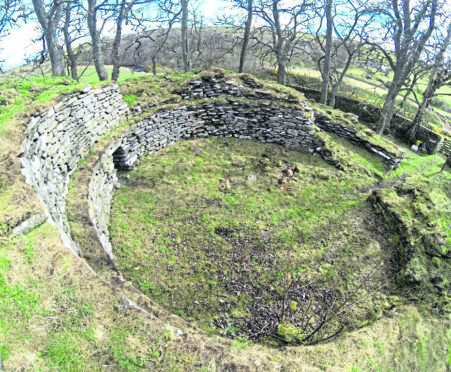 A major project three years in preparation to "slow or prevent" the deterioration of one of the best examples of Caithness Brochs is set to start later this month.
The Dunbeath Broch Project aims to both preserve the feature as well as educate younger generations about its importance to the area.
Work with archaeologists will begin on the site on August 20 and, later the same evening, there will be a talk at the Heritage Centre.
They will be at least ten days at Dunbeath repairing and investigating the remains of the broch and it is hoped that plenty of volunteers will be on hand for assistance.
The programme wants to give locals of all ages the chance to get stuck in while learning more about the historic landscape of the north of Scotland.
Their hands-on experience exploring local heritage will be overseen by some of the country's leading archaeologists and historians.
It will also include a "Living History" day at the Heritage Centre led by James Dilley of Ancientcraft, who is well known as a craftsman and re-enactor, as well as for his work with Time Team and National Geographic.
He will team up with Community Archaeologist from AOC Archaeology Group Charlotte Douglas to work with Dunbeath and Lybster Schools.
Together they will introduce pupils to archaeological work and help them gain a clearer picture of the broch and its Iron Age builders and inhabitants.
The programme of related events will continue intermittently into October with other activities centred on the broch and archaeology but its culmination will be in March of next year.
At that point the archaeologists will deliver their findings in a bid to answer some questions that have been raised, including giving a trier assessment of how old it is.
Chairman of the Berriedale and Dunbeath Community Council, Neil Buchanan, said: "We have been doing preparatory work for the last three years – it has been a lot of effort."
The community council got funding from energy giants SSE, the Heritage Lottery Fund, Highland LEADER programme and Historic Environment Scotland.
They were able to construct proper footpaths and carry out laser studies of the Broch to determine where it had fallen into disrepair.
My Buchanan said: "There were some questions raised on Canmore about its age and we want to answer those questions and to restore the Broch."