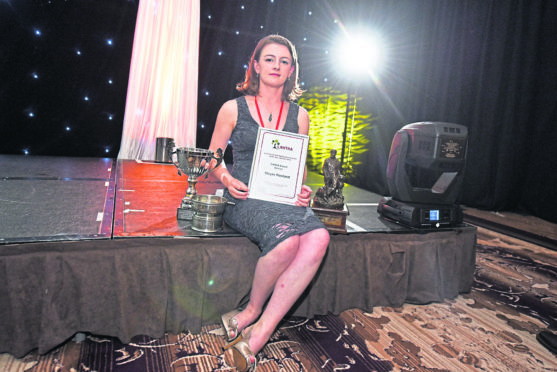 A young gamekeeper is hoping to inspire more women into her field of work.
Megan Rowland, from Dornoch, is well on her way to a successful career as a land and deer manager in the north after becoming one of only three female approved witnesses for deer management qualifications in the UK, allowing her to mentor deer management trainees.
The estate management apprentice first became interested in the pursuing a career in the great outdoors while volunteering for the RSPB.
She said: "I did a lot of volunteer work with the RSPB for a couple of years, after realising the environmental sciences degree I was doing wasn't taking me in the right direction.
"I wanted something with a more practical focus, so started volunteering for the Game and Wildlife Conservation Trust as well.
"During my time with these charities, I met farmers, crofters, foresters, gamekeepers, and they opened my eyes to the other possibilities in the rural sector.
"I knew from then on that I wanted to work in the great outdoors."
Growing up in Orkney, Miss Rowland moved to the mainland to study at the University of the Highlands and Islands, enrolling on the NC Gamekeeping course and HNC in Wildlife management North Highland College UHI.
Whilst studying towards a master's degree in Countryside Management at Scotland's Rural College she has forged a highly successful career at Practical Land Management (PLM) where she works part-time as an assistant land manager.
In her role, she is responsible for taking guests out into the hills.
She added: "I love interacting with clients and taking them up onto the hill once the season starts – the job is much more diverse than people expect.
"The stalking aspect is only a fraction of it.
"You need to be able to communicate effectively with others and know a lot about local habitats, wildlife, geology and the history of the area, because it's all part of the experience we provide. It's a great job and different every time. I love it."
Despite becoming the first woman to win the Game and Wildlife category at at Lantra Scotland's Learner of the Year Awards in March, her growing success has not fazed her.
She hopes to pave the way for more females in what many perceive as being a male-dominated industry.
She said: "As part of my work as an ambassador for the British Deer Society and as a Lantra Scotland Industry Champion, I try to actively promote our industry to all young people, male and female.
"There's nothing about this career that women can't do. I also think it's a good thing for the industry having a diverse range of people working in it, as we all bring different skills and perspectives.
"I know many of my male colleagues would welcome more females into the industry, but I think women and girls can sometimes see it as male-dominated, and that they wouldn't be welcome.
"The reality, in Scotland at least, is very different, and I hope that what I'm doing will help encourage more women of all ages to get involved."