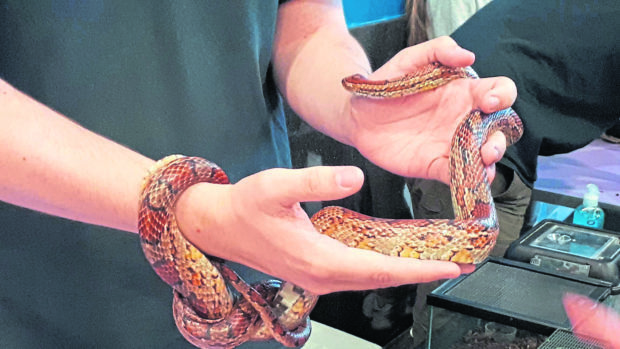 Young shoppers in Inverness got the chance to get up close to some exotic animals yesterday.
Scottish Exotic Animal Rescue brought along an array of creatures including a corn snake, an iguana, a bearded dragon, millipedes, centipedes and a tarantula to the Eastgate Shopping Centre's summer children's club.
Dozens of youngsters were given the opportunity to learn about the different animals, as well as hold them.
Adult shoppers also got involved in all the commotion, with some even choosing to face their fears of snakes.
Donald Wood, a volunteer with the charity for  seven years said: "It's to raise awareness to stop mistreatment and to give kids hands on experience as well.
"The money we get to do this is put towards the Rescue. It keeps us running as we are a private charity and we don't get any funding.
"We do a lot of galas and events and it's popular with the kids. This is what's it's all about, educating these kids."
The event was part of the centre's summer kids club programme, has been running every Wednesday. It finishes next week.
Centre manager Jackie Cuddy said:  "Eastgate can be quite a big meeting place. We have had on the children's clubs every Wednesday to engage with organisation like the Scottish Exotic Animal Rescue.
"I think it's really important kids get out and be touchy feely. It's good for making children have awareness and that's the important thing. It gets them away from their phones and computers.
"It does change things for kids as they have feelings and affirmations and then they go onto get pets. It gets them out and gives them real life experiences."