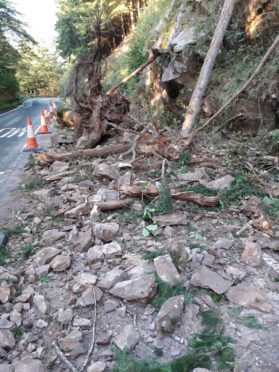 Road users are being advised that the A82 just south of Drumnadrochit has been reduced to one lane to allow specialists from Forest Enterprise Scotland (FES) and BEAR Scotland to carry out an emergency inspection following a rock fall caused by a fallen tree.
Although the road remains open under traffic signals, public safety is of the highest priority and staff from both organisations are on site maintaining the lane closure and monitoring the slope.
The traffic restrictions are likely to remain in place overnight and a decision on further traffic management measures will be taken once the geo-technical assessment of the hillside has been made.
A82 Traffic restrictions in place as we work with BEAR Scotland to clear up debris from fallen tree! https://t.co/6YtLUlw5Rh pic.twitter.com/1WCRrFYhlZ

— FCScotland (@A82operations) August 8, 2018
Alex Macleod, FES Operations Manager said: "We appreciate that this will be a cause of some inconvenience to all of the road users that make use of this route but we hope that people will understand that after an incident of this sort it is imperative that we make this section of hillside safe.
"Once we have the results of the inspection, we will have a better idea of what will be required in terms of rock stabilisation and tree felling in order to make safe the hillside.
"We will keep people informed of our next steps and are liasing with BEAR Scotland, and the Traffic Scotland website will advise on further traffic safety measures.
"Our long-term work along the A82 to fell the ageing woodland will greatly reduce the likelihood of such incidents occurring and will help make the road safer for everyone."
The incident took place at Grotaig, midway between Urquhart Castle and Alltsigh, and saw an oak tree come loose and fall down the slope, dislodging other debris as it fell.
Eddie Ross, BEAR Scotland's North West Representative, said: "Our team quickly arrived on site to help make the area safe, and we'll continue to liaise with FES throughout the clear-up."
The tree and rocks originated from the National Forest Estate but were not in the vicinity of the recent FES felling operations that have been carried out in the area.