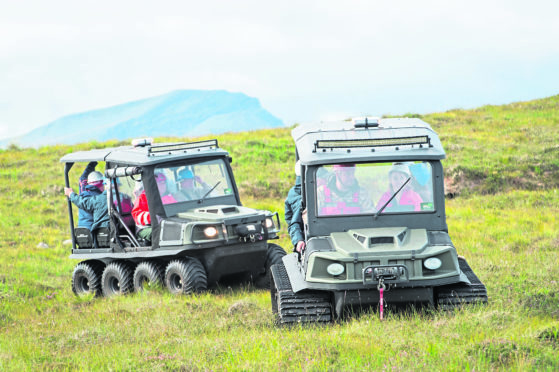 Plans for the UK's first spaceport in Sutherland – creating hundreds of jobs – are taking off as proposals for other potential sites in the Highlands and Islands were not ruled out of contention as other bases.
It was revealed yesterday that landowners would benefit from at least one per cent of all launch fees, with a further one percent going to the community.
Public consultations are to begin this month on the project at Melness, as it was also revealed a final planning application for the site to become the first launchpad for satellites was expected to be lodged next year.
UK Secretary of State for Business Greg Clark visited Sutherland yesterday, as representatives from satellite specialists Lockheed Martin and Orbex, as well as Highlands and Islands Enterprise (HIE) also gathered.
The remote Sutherland site was announced as the chosen location for the spaceport last month, and it is set to be built on land owned by the Melness Crofters Estate.
The spaceport is expected to cost in the region of £17million and is to be developed by HIE, with public consultations to take place later this month.
Roy Kirk, of HIE, confirmed discussions and consultations were taking place in preparation for submitting a planning application, expected in late 2019.
He added: "There are plenty opportunities here for the local supply chain and we hope to host a supplier day in September/October time. We are keen to hear from local organisations and explore how they can get involved in the project.
"It is vital to involve the community in this project, as an economic and community development agency. This part of the world, as beautiful as it is, possesses an aging population and now we now have an opportunity to offer children the choice to work in the space industry, which is almost unheard of.
"Children are the future and 50 years ago we were able to offer opportunities in the nuclear industry. Now we are able to offer opportunities in the space industry.
"Our plan, which is not yet finalised, has been positive in hearing the help and consideration of the Melness crofters. The plan would be we would take a lease with the Crofters Estate and we would then be the landlord and we would build this facility.
"The crofters will certainly get a reasonable rental. One percent of all launch fees will be donated to the landowners, with a further one percent being donated to the community."
The first drop-in consultation is due to take place in Melness between 3.30pm and 8.30pm on August 21, with a second taking place in Tongue the following day.
Mr Kirk added: "It is fantastic. Clearly when people mention space, there is a bit of magic and initially there has been a bit of disbelief but there are many sensible scientific reasons why this site is well placed for a spaceport.
"We will be working with Lockheed Martin and Orbex – and other partners like them – and it is really fantastic this is happening here."
Figures unveiled yesterday by Business Secreatary Greg Clark estimate 2,000 small satellites will be launched from the UK by 2030, with funding secured for other potential spaceports around the country.
The secretary of state yesterday would not rule out potential bid for other spaceports in the north, including one already made by Shetland.
Lockheed Martin and Orbex are currently developing launch systems that will operate from the vertical launch site.
Patrick Wood, Lockheed Martin's UK country executive for Space, said: "The geographic location is perfect. We are close to the north coast, which gives us access to polar and sun synchronous orbits, which for different reasons both of those orbits are ideal.
"We will be supporting HIE to dispel some concerns and alert those that are curious as to what a spaceport is, which here, is a low cost, efficient facility designed with five to 10 launches a year.
"There are very transferrable skills from near by Dounreay, and the oil and gas industry in Thurso, with many high quality technicians at both which we will look to, as we search for the first members of our team."
Chris Larmour, chief executive of Orbex said: "I had my concerns that the move wouldn't be welcomed because we didn't want people to think it would ruin the landscape, but so far it has been generally very positive.
"We are currently assessing locations in Scotland to house our rocket factory and Spaceflight Mission Control facility and are looking to sign a contract in possibly the next 60 days, with Inverness one potential candidate. We will be looking to build a new headquarters in the next 18 months, creating 130 direct opportunities for jobs over time."
The Sutherland site as the UK's first spaceport has provided an "enormous source of excitement", according to Secretary of State for Business, Energy and Industrial Strategy Greg Clark.
The politician was in the Highlands yesterday to inspect the location and outline plans for satellite launches in the UK for the future.
He said: "It is a spectacular site and there is an enormous source of excitement.
"There is nothing like seeing with my own eyes what I have been reading about and studying for some time. So it's great to come at the first possible opportunity to see what will be the first spaceport in Europe.
"2020 is the ambition for the first launch and that is now in the hands of Orbex and Lockheed Martin.
"My understating is the expectation will be 12 launches per year initially.
"This is really the first fruits of this project, but we have also have funding for new spaceports that will explore horizontal launches and that hasn't been done commercially in the same way vertical launches have.
"There is a competition for other sites. The site here is the one that has won the competition that was run, but by having it here you create hundreds of opportunities for new jobs in supporting professions, for engineers, for technicians, and right here in the north of Scotland.
"We will be the first place in Europe to have a launch facility which will attract more business from other satellite manufacturers and developers, knowing that a country that already has the expertise, now has the facility to launch the satellite and avoiding having to transport to French Guiana or to India."
The move is set to bring an estimated 400 jobs to benefit the Scottish economy.
Mr Clark added: "Hundreds of jobs, really good quality jobs and opportunities for young people to get involved in a growing industry. When you think about the satellite industry, we all know, as every year goes by the number of applications increases, so we know it will be a growing industry in the future.
"So if you are a young person, here in the north of Scotland, to get trained in a set of skills that is going to lead to a fantastic career for the rest of your life is going to be a huge opportunity.
"There are also opportunities here for people with a lot of skills from the nuclear industry at Douneray. Some of the engineering skills will be needed and the heritage that we have in Scotland and the UK of precision engineering and marine engineering, some of these can be applied to aeronautics and the satellite industry, so there are going to be hundreds of jobs created directly.
"Also there will be potentially jobs created for people, as visitors come to see a rocket launch, so this will further raise the profile of an area that's already recognised as one of the most beautiful places in the world."