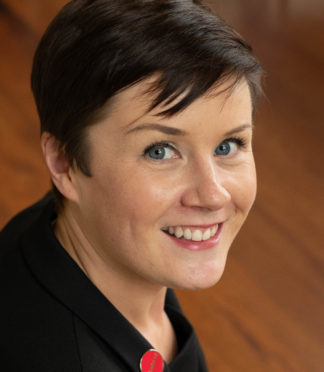 A prospective Labour Party MP has accused the Scottish Government of "complacency" over its dealings with the "crisis" affecting CalMac's Hebridean routes.
Alison MacCorquodale spoke out after the flagship MV Loch Seaforth broke down in the Minch last week saying it was "yet another warning sign that must not be ignored".
In the latest in a series of problems to hit the ferry line, the MV Loch Seaforth broke down almost exactly halfway to Stornoway.
That left 343 passengers and crew stranded in the middle of sea before power was partially restored allowing it to get under way again.
Ms MacCorquodale said: "Without question, CalMac do the best they can given the pressures they face and their limited resources. What the people of the Outer Hebrides need to know now is exactly when the new vessels will come into service and provide some semblance of resilience to the fleet.
"The Western Isles economy is now suffering from the complacency of the Scottish Government.  It is time for everyone with the community's interests at heart to make their voices heard."
Ms MacCorquodale questioned the funding behind the vessel that saw it backed by Lloyd's then leased to CMAL and sub-leased to CalMac.
Ms MacCorquodale said: "It was this private funding model which drove the single ferry option for the Stornoway-Ullapool crossing against local wishes. Where does responsibility lie if the 'Loch Seaforth's' problems recur or if she has to be withdrawn from service?"
A Transport Scotland spokesman said: "Over £1 billion has been invested in ferry services across the Clyde and Hebrides since 2007, including the MV Loch Seaforth and harbour upgrades at Stornoway and Ullapool. We are continuing to invest in new vessels and ferry infrastructure to renew the fleet.
"Work is also already underway to appraise, and subsequently to deliver on, further improvements to the ferry services to the Western Isles, including the important Ullapool-Stornoway route.
"Following local feedback last year, extra sailings have been incorporated in timetables for this summer, including on the Stornoway-Ullapool route, and the introduction of the new Mallaig-Lochboisdale service, the deployment of the MV Isle of Lewis to Oban-Castlebay, and using demand management measures around the network, will all help alleviate forecast pressure on services to the Western Isles."