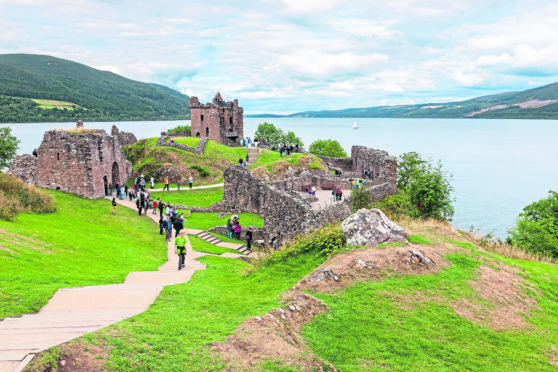 As wedding venues go, it is an internationally sought-after back drop.
But Urquhart Castle on the banks of Loch Ness will no longer be offering weddings – because the historic site is too busy with tourists.
Couples wishing to tie the knot among the ruins will now be unable to do so after operators Historic Environment Scotland (HES) decided the site could no longer cater for weddings alongside booming visitor numbers.
Latest figures showed that during the last financial year Urquhart Castle was visited by 487,837 people, an increase of over 87,000 people on the figures recorded in 2016-17.
A spokeswoman for HES said: "Urquhart Castle is one of the most-visited historic attractions in Scotland, and due to an increasing number of visitors we are no longer offering weddings at the site. This is to ensure we are not compromising on the experience we can offer the bride and groom on their special day, as well as not impacting the core visitor experience.
"We continue to offer couples the opportunity to have wedding photography taken at the site."
Urquhart Castle has hosted dozens of weddings since legislation allowed ceremonies to take place at venues other than churches and registry offices.
The iconic castle was taken into state care in 1913 and once stood as one of Scotland's largest castles. In its current ruined state, the castle dates back to the 13th century with the remains including a tower house, providing picturesque views of Loch Ness and the accompanying Great Glen.
Earlier this year community chiefs explored the option for a buyout of Urquhart Castle's visitor centre.
The Glenurquhart Rural Community Association (GURCA) invited local residents to a meeting to explore the proposal in May, with residents offered the opportunity to vote on whether to progress with the buyout.
Willie Cameron, business development director for the Cobbs Group, said: "I was approached by a client in relation to them hosting their wedding at the castle when I found out that they have decided they will no longer be doing them anymore.
"I feel there should have been more liaison with the local community.
"We are more than happy to work with couples who wish to get married in the local area at any of our establishments and I have spoken with a local cruise operator who is happy to offer an alternative of getting married on a boat off of the castle."
Urquhart Castle is HES' third most visited site, behind only Edinburgh Castle and Stirling Castle.
A couple who tied the knot at Urquhart Castle in 2010 have described the announcement as "a shame" after celebrating their special day with loved ones at the iconic castle.
Hamish and Clare Moir tied the knot at the castle on June 26, 2010, with around 60 members of their family and friends attending the humanist ceremony.
Mrs Moir, 37, said: "We are both from the area – well, my husband is from nearer Fort William. But the history of the castle appealed to us as Hamish is very into his Pictish history and the castle once was a Pictish fort.
"It is iconic. We have always liked the area and chose it as it is something a bit different from the usual."
The couple, from Balnain, have two children, Murdo, who is seven, and Fearghas, who was born just three weeks ago.
Both Mr and Mrs Moir work for cbec, specialists in eco-engineering for the water industry. Mr Moir, 47, is an environmental consultant, with Mrs Moir operating as the company's graphic designer.
Mrs Moir added: "It's a shame. It really is something quite different.
"It is quite iconic and people come from afar to visit the castle. When we were researching it as a venue we saw so many photos of Americans who had got married at the castle.
"The whole day was really nice and it was an occasion which everybody remembers, so it's a shame nobody else can do it."