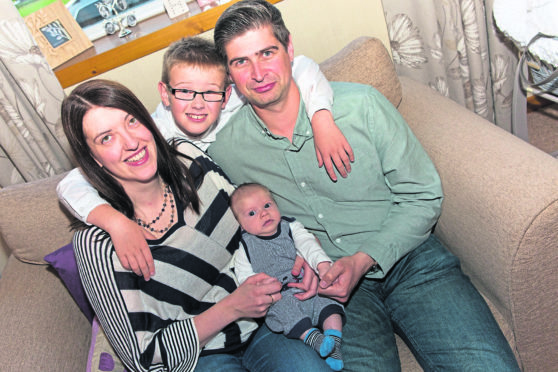 Expectant mums and campaigners are piling renewed pressure on health bosses to review Caithness's controversial maternity policy.
A downgrading of the Far North's baby unit means most expectant mothers from the far north are forced to make marathon trips to give birth in Inverness.
The ongoing disquiet about the risks associated with the journeys down the A9 surfaced at meetings held to discuss the future of adult NHS and social care in Caithness – even though it was not on the agenda.
Speaking at the meet in Thurso, Billy Sinclair claimed the health board failed to take the travel risks into account when it made the change.
Health campaigners consider legal case over state of maternity provision in the far north
"I don't know what safety case could be made for making pregnant women travel down the A9 in all weathers to have a baby at Raigmore but I would like to see it", said Mr Sinclair, of Ormlie Drive. Thurso.
Doreen Macleod, of Barrock Street, Thurso said: "If you think the journey to Inverness for pregnant mothers is OK, you're deluded. It's just crazy.
"We want maternity included in this consultation."
In December 2016, the health board opted to do away with three consultant posts and put midwives in charge of the service following an inquiry into the death of a new born.
As a result, all first-time mothers and those deemed at risk are now referred to give birth in Raigmore Hospital.
Maimie Thompson, NHS Highland's head of PR and public engagement, said the maternity service is not included in the current review.
She said: "We will have further discussion on maternity but we will not be reviewing the board's consideration of the safety issues [which led to the downgrading}. That is a decision the board is not prepared to reverse."
Ms Thompson said the health authority is well aware of the potential hazards faced by pregnant women and other patients travelling on roads across its patch.
She said staff would take travel factors into account when planning and delivering care, adding: "We recognise that people face vast distances across the Highlands and I can't change the geography.
"You can say it's a disgrace and a shame but I'm being honest and up front with you."
An NHS spokesman later said transport issues are fully accounted for.
He said: "We have a set procedure in place where patients self-transferring are each individually assessed over being medically/obstetrically suitable to travel using their own transport.
"We also take in other practical matters into consideration based on discussions between staff and family. This may lead to a re-assessment and occasionally result in the Scottish Ambulance Service being used to transport the patient for non-medical reasons."
A maternity case study: Mike and Gayle Williamson
Mr Williamson had set off from their home in Thurso to drive his primary school teacher wife to Inverness after she went into labour in the middle of the night.
But a red deer suddenly shot out in front of his Honda Civic near the entrance to Dunrobin Castle, north of Golspie at about 3.10am.
Mr Williamson, a facilities supervisor at Dounreay, said: "I had no time to react. It was on a tree-lined stretch of the road a quarter-of-a-mile north of Dunrobin – I had hit it at almost the same time as I saw it.
"I think it must have tripped as it went over a fence as it ended up hitting the front side of the car. If it had been upright, it would have gone right through the windscreen. That could have had a very different outcome."
While shocked, the couple was uninjured and able to complete the journey to the hospital where later that day Mrs Williamson, 33, produced a healthy baby boy, Ross.
Mr Wiliamson, 40, took the car to a garage and made alternative arrangements for the return trip while £4,000 worth of repairs were carried out on the car.
Reflecting on the experience on June 21, the couple say it is intolerable that expectant mothers from the far north are routinely faced with making the 110-plus mile trip down the A9.
"It's just not safe," said Mike. It's not just that the roads can be treacherous in winter. There's other risks like the one we encountered and when a woman goes into labour in the middle of the night, there's a greater chance of deer being around."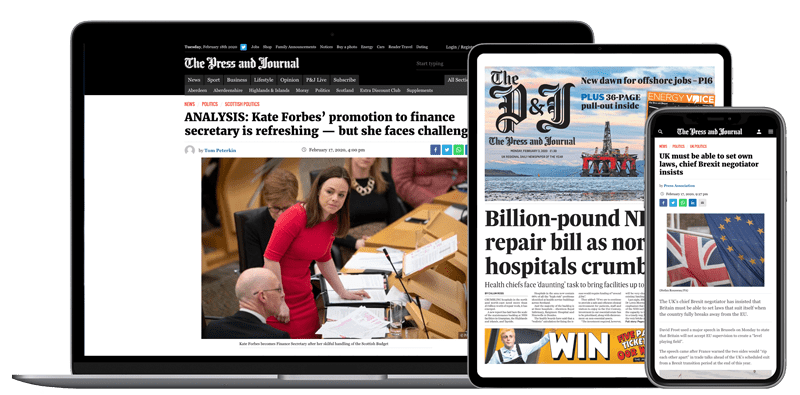 Help support quality local journalism … become a digital subscriber to The Press and Journal
For as little as £5.99 a month you can access all of our content, including Premium articles.
Subscribe