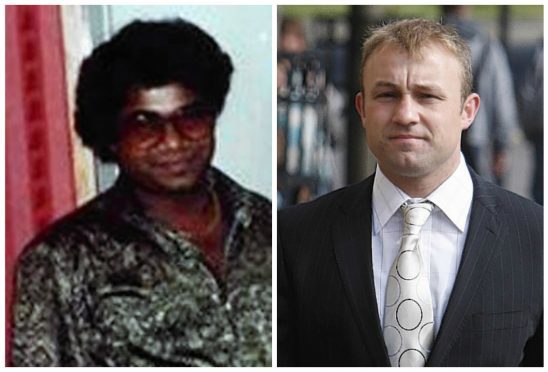 Convicted race hate killer Michael Ross has spoken for the first time about three failed escape attempts in the decade since he was jailed for life for the murder of a waiter in Orkney – claiming it proves his innocence rather than guilt.
Former Army sniper Ross turns 40 today – and has now spent a quarter of his life in prison for the 1994 masked attack on Shamsuddin Mahmood, 26, at an Indian Restaurant in Kirkwall when he was 15.
Human rights team fighting for "justice" for convicted Orkney killer Michael Ross
In a sensational claim relating to his attempted escapes, married father-of-two Ross said: "It's only natural for captive animals to want to get out of their enclosure."
Ross's latest bid for freedom was made at high-security Shotts Prison in Lanarkshire in July, when it is understood he tried to scale a fence.
After being found guilty in 2008, Ross famously bolted from the dock at the High Court in Glasgow, but was tackled by an official. A hired car with a cache of guns and ammunition was found in a nearby car park.
In September 2016, it is understood that he stole a saw from a prison workshop, swapping it for a wooden replica, and attempted to again escape.
Speaking through his campaign group, he said: "I don't do these things without thought or with a careless attitude, although it may seem like that.
"I think that the general public opinion is that all prisoners are guilty, but all claim to be innocent.
"Me voicing the fact that I'm innocent would just sound like another guilty guy in prison claiming innocence.
"Me taking action and doing what I have done would, I hope, make the public think 'well, he's a bit different and he's trying to do something about it'.
"I feel that it says more about me, taking action. After this recent escape attempt I was interviewed by independent prison governors and I told them that I felt that they should be doing more to allow prisoners opportunities to bring focus onto their cases if it's a potential miscarriage of justice."
He added: "For me, planning an escape is like seeing an open door to the outside world. For me not to take that opportunity to walk through the door is madness.
"It's only natural for captive animals to want to get out of their enclosure."
A spokeswoman confirmed the latest attempt by Ross to escape from jail in July, including his previous two bids for freedom.
She added: "Attempts to escape from lawful custody will be treated as a serious breach of prison discipline."
'No disrespect' to his supporters
Former Black Watch sniper Michael Ross claims he means "no disrespect" to supporters fighting his innocence by making his escape bids.
The Press and Journal revealed in June that human rights lawyer Aamer Anwar had taken on the case.
Campaigners of the "Justice for Michael Ross" – J4MR – group raised over £20,000 in an online crowdfunding campaign to take on the specialist, high-profile solicitor.
They aim to submit an updated case to the Scottish Criminal Cases Review Commission (SCCRC) with a view to gaining a referral to the Court of Appeal and clearing his name.
Ross said: "I don't mean any disrespect to all those that are working hard on my campaign, and I do feel like all of these brilliant efforts will make for success eventually, but I've already waited for four years for my first appeal and then another three years for the SCCRC decision.
"Now having served 10 years in jail I'm back at the beginning again, but much worse as I have to rely on my lawyers finding a new approach that will be acceptable within the narrow constraints of criminal appeals processes.
"The hardest thing for me in my recent actions is the thought of the upset I may have caused my family, friends and my supporters."
A spokeswoman for J4MR said: "He has now spent a quarter of his life locked up in prison for a crime he says he did not commit. The evidence against him was weak and circumstantial and can all be discredited.
"We know that some people that were involved with the original police investigation and the subsequent cold-case review have information that could turn this case around and potentially lead to the murder conviction being quashed.
"We would beg anyone that has relevant information to come forward to Michael's legal team, Aamer Anwar and Co."