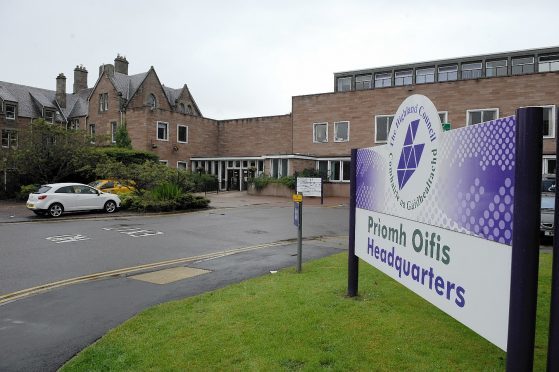 Forecasts of a £5.1 million overspend in this year's Highland Council budget dominated yesterday's corporate resources committee meeting in Inverness – with fears voiced over the authority's £8million reserves.
Many councillors are still bruised from the budget-setting process earlier this year, when parking charges and toilet closures introduced without prior consultation sparked public outcry and a backlash from their constituents.
Delays to the introduction of car parking and toilet closures were priced into the projected overspend at around £600,000, but the lion's share is £2.7m arising from looked-after children. Failed corporate savings targets of more than £1.7m make up the rest.
Head of corporate finance and commercialism Ed Foster warned that the council is 'one hard winter' away from losing its reserves of just over £8m.
He said: "Without taking clear and decisive action now, there is a real and clear risk that we will be significantly overspent."
Director of corporate resources Derek Yule said the projected overspend reflects the ongoing squeeze on resources over a number of years.
Unlike previous years, this year the low-hanging fruit has already been picked, he said, and there would be no underspends, no bail outs, no rabbits to pull out of the hat.
He said: "The situation requires an immediate correction to normal business. The council has the right to expect all services to manage the resources allocated to it."
Effectively this means tighter control over expenditure in staff and non-staff related areas, non- essential spending and a line by line analysis of where the money has been spent and a questioning of whether it needs to be spent at all, Mr Yule went on.
Committee chairman Alister Mackinnon told councillors, "This is a wake up call for every one of us. If you thought the decisions at the last budget were hard, there's worse coming down the track."
He emphasised there were no job losses predicted 'at this moment in time.'
Council leader Margaret Davidson said: "Suffice to say that local government and the services we deliver are not a priority for the Scottish Government, and they are not a priority looking ahead either."
From the opposition, councillor Richard Laird said: "I want to know when this administration is going to take responsibility for this administration's budget.
"We're all used to the late panto season in January, February when the administration says the Scottish Government is giving the councils less money, but to see it creeping into August is disappointing.
"But as soon as this council sets its budget in February, it becomes this councils responsibility to deliver that budget.  It doesn't have £5m less in grant funding than we thought in February.
"The problems in this are entirely of the council's making.
"They are created by members voting for the budge and not implementing it."