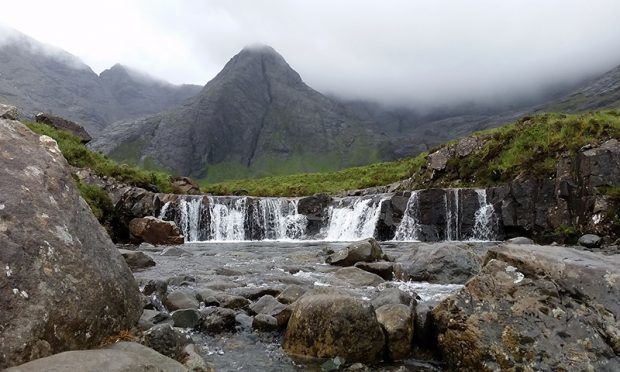 Car parking charges have been introduced at one of Skye's most famous beauty spots ahead of a new 130-space car park a being introduced.
The Fairy Pools, near to Glen Brittle in the north-west of the islands, are visited by thousands each year, with over £650,000 of public funding being secured to improve the infrastructure at the site.
Now cars are being charged £5, minibuses £15 and motorbikes £3 to park at the location, which is owned by Minginish Community Hall Association (MCHA), although the introduction of fees prior to the car park being built has upset some locals.
But Nick Duffill of the MCHA said: "The reason charging is being employed at the site is to raise revenue for other work. What we are aiming to do with the project is to not just make the car park sustainable but to make pathway improvements on the other side of the road.
"We are looking to improving the site and providing toilet facilities, which is not cheap in an off-grid location such as this one. We have to put the infrastructure there to accommodate for this facility.
"The reaction of visitors who have been paying so far has been very positive when they understand who is carrying out this project and why it is being done. All funds generated will stay in the area and will benefit the community for both locals and visitors.
"We have to do this to make the things people come and see sustainable for the future."
More than 100,000 are thought to head to the stunning natural attraction each year – but residents complained of being trapped in their homes because the old 30-space car park could not cope, leading to vehicles being parked on verges and in passing places.
Local resident Gerry Ackyroyd, the former leader of Skye Moutain Rescue Team, said: "Introducing charges at the existing small car park is counterproductive as it will inevitably lead to more people parking on verges and passing places to avoid paying.
"We are still experiencing all kinds of problems. Tourists end up shouting at each other – they can't reverse out of the passing places. Residents can't get out of their homes. It's a situation that needs sorting.
"I think once the larger car park opens it is fair enough to charge – but at the moment, while it is being built, it's is not a good idea."
The car park and toilets construction is set to see jobs created at the beauty spot, with the Outdoor Access Trust for Scotland already seeking two car park attendants.