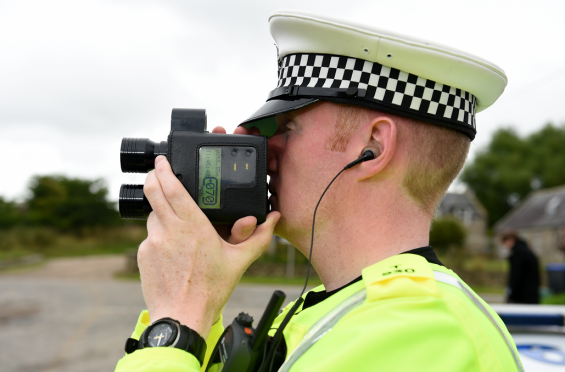 Dozens of motorists stopped by police on the North Coast 500 at the weekend were issued with warnings – and seven speeders were reported to the Fiscal.
A total of 85 vehicles were stopped by police along the scenic Highland route on Saturday as road safety patrols were carried out round the route that starts and finishes at Inverness Castle.
Officers issued cautions to 45 motorists, with 12 reported to the procurator fiscal – seven of those in relation to speeding offences.
The patrols were carried along the A9, A99 and A836 during a routine operation being undertaken by officers across the popular tourist route.
Paul Maden, who co-owns the popular Cocoa Mountain at Durness in Sutherland – one of the key NC500 pit stops – said this summer had been "very busy."
"For us it has been a record breaking summer with more tourists, and some people do abuse and not respect the route.
"I must admit that I now do not make a journey after 7am or before the evening, but we can't have it both ways.
"The NC500 has been an outstanding success in bringing prosperity and jobs to the area and it's just a pity that some drivers abuse it. But it is a minority who do upset others and cause problems but better infrastructure, including road widening is needed as well as better driver education of the route.
"Drivers dawdling and not letting people pass is as big a problem as those speeding. It is about doing the route not too fast and not too slow."
Highlands and Islands Regional MSP and road safety campaigner, David Stewart welcomed the news saying: "I welcome any police initiative that is designed to make any of our roads safer. Police Scotland have increased patrols along the NC500 and are looking out for any adverse driving behaviour under what they call operation route.
"I am unaware of the background to the 85 vehicle stop checks on this occasion, but surmise it was routine action by the Police and the fact that they have warned 45 drivers regarding excessive speed indicates that the police are doing what they said they would.
"I would urge all motorists travelling on our busy routes to pay attention, adhere to the speed limits which are clearly highlighted and drive in a manner that shows respect to other road users. The message is simple 'Sensible Driving – Always arriving."