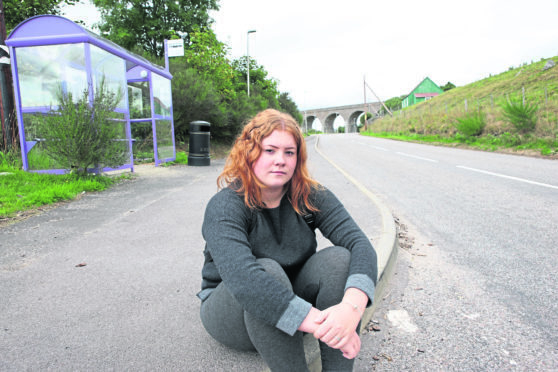 A stark picture of reduced job opportunities, isolation and social exclusion has emerged across the Highlands as a direct consequence of cuts in bus services.
Last year operator Stagecoach lost out on a range of major contracts, including school runs and some linking runs.
Although other operators have moved in, commercial realities mean that many services have been severely reduced, with significant economic consequences, the Press and Journal has found.
There has been cases of people losing their jobs or having to give up work, areas for which attending medical or dental appointments has become impossible, students unable to attend college or the secondary school of their choice, shops and restaurants having to close early to allow staff to get buses home, and hotels having to find sleeping space for staff who can't get home in the evening.
Being close to Inverness is also no advantage, it has been discovered.
After cuts in the Cromarty-Inverness service, North Kessock residents now have to travel into Inverness and 'back-track' to get a bus to take them to Fortrose Academy, or the medical appointments in Munlochy.
Black Isle residents who have signed up with North Kessock medical practice or the new dental practice in North Kessock also have to back-track from Inverness.
A resident, who didn't want to be named, said: "Visiting relatives and friends by bus in places like Avoch and Munlochy is a complicated, time-consuming business.
"We've lost morning and afternoon services which mean that people have had to change their hours of work, and in some cases their working day has been lengthened.
"The bus frequently used is ancient, with steep steps going in, extremely difficult for both mothers with push chairs, and disabled and elderly to access."
She added: "North Kessock residents feel like isolated, second class citizens."
Ten miles from Inverness on the Moray Firth is Ardersier, where the picture is no better.
The village's proximity to Inverness airport brings welcome job opportunities- but there's a problem.
Community council chairman Kevin Reid said: "The biggest problem we have with our bus service is we cannot get to the airport from the village. Many people have to use taxis to get back and fore.
"Other than that our local bus service is pretty inadequate, for example the lack of links to Nairn where the medical practice is located. Essentially you can't rely on the local bus service to get anywhere in a reasonable time, I believe almost an hour to get to Inverness.
"The result is without a regular and reliable bus service people need to have a car. Once you have a car it becomes cheaper to use the car to get anywhere than it is to use a bus."
Highland Council's vice convener councillor Allan Henderson sits on HiTrans, the Highlands and Island Transport Partnership, and the Lochaber Transport Forum.
Mr Henderson acknowledged that solutions to gaps in local bus services were challenging in a region as complex as the Highland and that commercial considerations were of necessity paramount for service providers.
He said: "The council was due to renew the community bus services this year, but because of the lack of manpower to look at the whole job that needs to be done, we agreed to keep the community bus contract, around £400,000, going for a further year.
"This allows proper work to be done, so we can look more at the links, leaving the commercial operators to do the longer and bigger routes that are sustainable and look at links that we could help subsidise, like the shorter journeys to the main trunk road for example."
But Mr Henderson was keen to manage expectations.
He said: "Trying to address individual needs sometimes takes you down to a basic taxi service, and that's not feasible for bus operators. They've made it clear to us they're not going to run non-commercial services
"We also need to remember that most buses on major routes are running from major destinations and have time schedules to meet as well, and this may not work well for local links.
"There's no one solution that fits across the Highlands."
Significant challenges for rural communities
Jade Cornwall, 17, of Tomatin, south of Inverness, believed she had landed the job of her dreams.
Her ambition was to work in childcare, so when a nursery in the city offered her a full-time job she was thrilled.
With no suitable morning bus to get her into work for an 8am start, and an evening bus that left 20 minutes before she finished, Jade moved in with her grandparents in Inverness for a month and started her job, but things didn't work out.
She said: "The nursery obviously couldn't change the shift patterns. I found with the bus times, I didn't get home for a month. Also I didn't want to rely on my grandad to taxi me around. I had to give up my job."
Meanwhile, Ardgour Community Council chairman Tony Boyd painted a vivid picture of the challenges for residents dependent on buses.
He said: "I am not aware of anyone having to turn down a job due to the bus service, they just don't even apply if they don't drive or own a second car.
"The biggest issue is that they have to rely on other commuters for a lift.
"On occasion people can be late for their work, and only due to the understanding of employers do they keep their jobs.
"With no weekend service, young people are most at a disadvantage as they cannot travel, or have to rely on parents to taxi them adding more cost to living in remote area."
Mr Boyd said the situation amounted to social exclusion, adding: "In a strange twist it may look like people in remote areas are well off. Having two or more vehicles per household is not a luxury, it's a necessity if they want to work.
At Clachaig Inn, Glencoe, manager William Stewart is having to juggle staff.
He said: "Our biggest issue is that the last bus from Glencoe to Kinlochleven is now 8.35pm when previously there were two evening buses one at 9.13pm and 11.13pm so now our kitchen staff have no way of getting home and none of them drive.
"Our other main issue in the morning is that the bus from Kinlochleven to Fort William is now being tied in with the school run to Bun-Sgoil Ghàidhlig Loch Abar, the Gaelic School in Caol, so it now has to sit in Kinlochleven for 10 minutes so it is not too early to the school.
"This in turn means that our staff in the morning get into Glencoe at 07.57 instead of 07.45 this will severely impact our morning service as we were already limited in how early we could offer breakfast to our residents due to bus times."
He added: "We, and other local employers, may be forced in the future not to employ anyone from Kinlochleven unless they have their own transport as they will not be able to use the local bus to get to and from work.
"In an already tight labour market this makes things severally worse for South Lochaber."