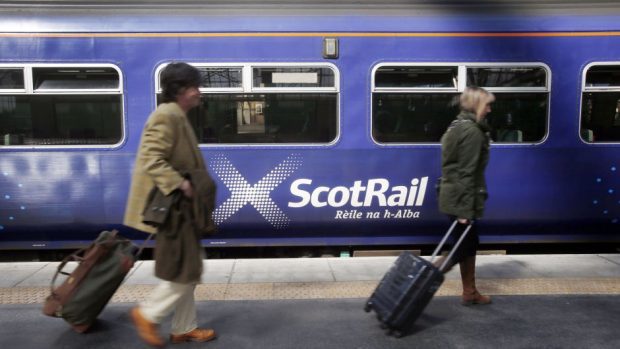 Staff shortages caused chaos for train passengers as Scotrail had to scrap services across the north and north-east yesterday morning.
Irate commuters were told to make alternative travel arrangements because the rail firm was unable to staff carriages.
People hoping to catch the train from Inverurie into Aberdeen were hit by a double-whammy as the brakes were slammed on subsequent services to the city at 9.09am and 10.38am.
One commuter said the situation was especially aggravating, as train passengers in the town recently endured months of disruption due to rail improvements being carried out between the two stations.
Gordon MP, Colin Clark, accused Scotrail of "failing to get the basics right" while concentrating on rolling out such multimillion pound upgrades.
Scotrail apologised to those affected and highlighted a £4million recruitment drive recently undertaken to beef up staff numbers.
But a spokesman was unable to confirm the vacancy rate which has spurred the move.
Staff shortages first affected passengers hoping to catch the 6.14am train from Ardgay into Inverness, about 40 miles away.
The 6.36am train from Edinburgh to Glasgow Central was then cancelled due to crew absences.
The 9.09am train from Inverness to Aberdeen was cancelled for the same reason, affecting customers planning to venture into the Granite City from the Highlands, Moray and Aberdeenshire.
The Inverurie residents affected were further inconvenienced when the next train into Aberdeen, at 10.38am, was axed for the same reason.
The service, which was destined for Edinburgh, instead began its journey at Aberdeen.
One commuter, who did not wish to be named, said that passengers at Inverurie were "up in arms".
The man said customers were especially upset having recently suffered through months of disrupted journeys into Aberdeen while new tracks were installed between the city and Dyce, meaning they had to catch a bus from the latter station.
The line was shut between Aberdeen and Dyce from May to August as workers laid 12 miles of new track.
The project will ultimately provide an hourly daytime commuter service between Inverness and Elgin by December, and a half-hourly service between Aberdeen and Inverurie by the end of 2019.
Mr Clark said: "Commuters rightly expect a better service than this.
"Clearly these staffing issues must be addressed urgently.
"We all know the benefits that the line improvements between Aberdeen and Inverness can have, but Scotrail needs to get the basics right."
Moray MP, Douglas Ross, said the ordeal had been "extremely annoying" for his constituents.
Mr Ross said: "There has been a lot of investment in this route which has understandably caused disruption for local commuters from Moray.
"At a time when we are encouraging people to use public transport, episodes like this can be extremely detrimental to that aim."
Mr Ross's SNP counterpart in Moray, MSP Richard Lochhead, has previously taken Scotrail top brass to task during public meetings in Elgin.
Last night, he said the firm must investigate ways to prevent such cancellations becoming a more regular problem.
Mr Lochhead said: "It is vital that Scotrail investigate how this can be avoided in future and contingencies put in place.
"It is difficult to persuade people to use public transport if it is unreliable, and many people living elsewhere travel to Aberdeen for work."
A Scotrail spokesman stressed that a recent recruitment drive should provide a long-term solution.
He added: "We are recruiting more than 100 front line staff across all roles – drivers, conductors, ticket examiners, hospitality stewards, station teams and ticket gates.
"We're sorry to our customers who've had their journey disrupted."
Managing director, Alex Hynes, said the recruitment scheme represents "a major investment in Scotland's economy".
He added: "Recruitment on this scale creates great career opportunities for our people and new recruits."
Anyone delayed by 30 minutes or more by yesterday's problems is entitled to compensation via Scotrail's "delay repay guarantee", which is available online.