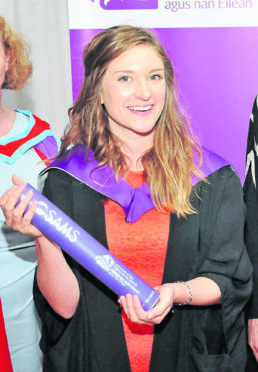 A marine scientist has become the first person to be awarded a University of the Highlands and Islands' Master of Science by Research Degree.
Eleanor Wood, who now works as a research technician at Swansea University, received her award at the Scottish Association for Marine Science (SAMS) UHI graduation as one of 46 graduates and prizewinners.
The University of the Highlands and Islands, one of the newest in the UK, obtained Research Degree Awarding Powers last year.
Eleanor said: "It is really fulfilling to be graduating as the university's first MSc Research student and I wish the future SAMS UHI students the best of luck with their research projects.
"Studying at SAMS UHI has been of great benefit to me, as the institute is renowned for excellent research and the scientists there are well known throughout the marine science community."
Prof Clive Mulholland, the university's principal and vice-chancellor, said: "The University of the Highlands received confirmation from the Privy Council in June 2017 that it had been successful in its application for Research Degree Awarding Powers.
"This achievement followed detailed scrutiny from the Quality Assurance Agency, which was assured that the arrangements for the university's research students were robust and met the standards expected from all universities.
"The graduation sees the first research degree being awarded using the university's new powers – a moment of celebration not only for Eleanor Wood, but for the whole of UHI."
In this coming academic year, SAMS UHI will host 44 postgraduate students. The previous academic year was the first time students had outnumbered staff at the Oban-based institute.
SAMS UHI Director Prof Nicholas Owens said: "While SAMS UHI has offered postgraduate study for some time, our students would historically have received their qualification from another university.
"The Masters Degree is a tremendous personal achievement for Eleanor and we wish her, and all of today's graduates, the very best in their future careers. Eleanor's award is also a significant milestone for SAMS UHI, the university, Oban as a university town and the Highlands and Islands region."
A number of prizes were awarded during the graduation ceremony in Oban's Argyllshire Gathering Halls, with the entire graduating cohort of the BSc in Marine Science winning the SAMS UHI Student of the year award.
Programme leader Dr John Howe said of the 19 Honours students. "They have demonstrated exemplary conduct, astonishing maturity, dedication and above all, perhaps most importantly, a strong bond of friendship."
Dr Shona Magill, head of student services, said the group had made a huge contribution to student activity at SAMS UHI.
Other prizewinners were: Johanna Fehling Memorial Prize (Best published paper by a PhD student) – Paul Dees; Prize for best EMMS Masters project conducted at SAMS – Kirsten Dinwoodie; Best dissertation for the ACES cohort 2016-18 – Nikko Cabillon; SAMS Council Award for Academic Excellence – Ivan Cautain; SAMS Award for Overall Achievement – Hanna Ewen; Tim Boyd Prize for Oceanography – James Coogan.